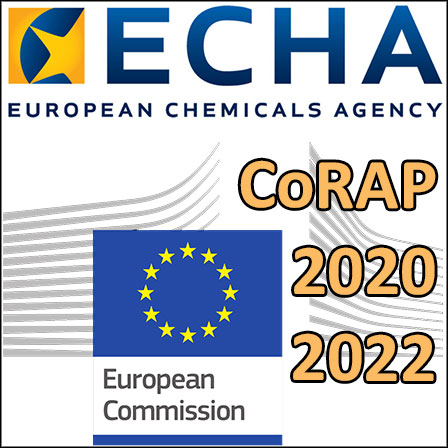 ECHA has just published its proposal to update the Community rolling action plan (CoRAP). The draft plan contains 74 substances proposed to be evaluated in 2020, 2021, and 2022. Several of them are frequently used in cosmetics. The final plan will be adopted in March 2020.
Reading time : ~ 10 minutes
This draft plan is an annual update of the current CoRAP 2019-2021 and covers the three subsequent years 2020-2022. It contains substances suspected of posing a risk to human health or the environment.
The draft list contains altogether 76 entries. Of these, 60 substances are divided for evaluation in 2021 and 2022, 14 being planned for evaluation in 2020.
The list contains 7 substances newly allocated to Member States. From the 69 substances currently included in the CoRAP update published on 19 March 2019, the respective Member States identified two for withdrawing as, based on new information or changes of circumstances, evaluation is seen as low priority or unnecessary.
ECHA is inviting the registrants of a listed substance to start coordinating their actions and contact the evaluating Member State authority. Downstream users of a listed substance should review the information they have available and share it with the registrants. In particular, it is important that information on the uses are up to date and exposure scenarios and related exposure estimations are clearly documented within the registrants' chemical safety reports. For the substances planned to be evaluated in 2020, the relevant dossier updates should be made before March 2020.
ECHA's Member State Committee will prepare an opinion on the draft plan in February 2020. Based on the opinion, ECHA will adopt and publish the ...