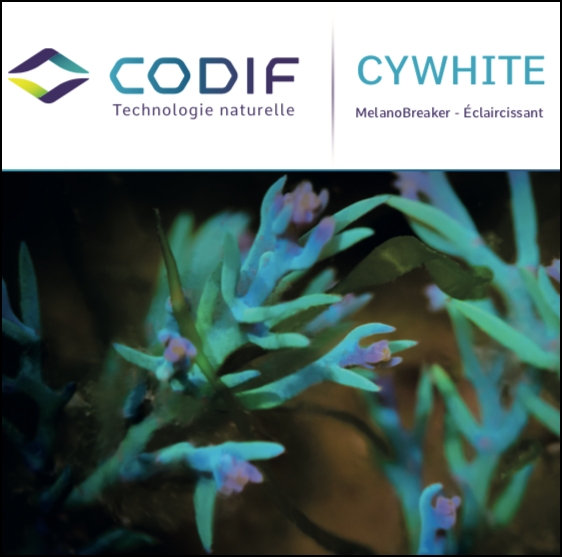 2019 is the year of algae for Codif. After presenting two new active ingredients from marine resources at the in-cosmetics 2019 exhibition, the French company has just announced the launch of Cywhite, an ingredient designed to homogenize the complexion and made from Arc-en-Ciel seaweed.
Reading time : ~ 4 minutes
Marine diversity still has many secrets to reveal and Codif is determined to unlock some of them.
"The brown seaweed Cystoseira tamariscifolia has branches covered with thorns that are iridescent when immersed in water: their colour ranges from green to purple to blue; hence its name Rainbow seaweed," explains Codif. "In 2018, the team of researcher Martin Lopez-Garcia published a new study on the phenomenon of algae iridescence. This iridescence is due to the regular piling of fat balls in pockets sheltered by the epidermal cells of the algae. Such an effect had only been observed in animals, such as some chameleons. This adaptation seems to be a response to the constraints of its environment. This algae is exposed to different degrees of light that vary with the tides and therefore the depth of the water. This iridescence allows the algae to improve the diffusion of ambient light to chloroplasts."
Based on this observation, Codif has worked on the properties of this algae in order to propose an active ingredient capable of lightening the pigmentation of the skin and homogenizing the complexion.
An eco-responsible harvest
Offering assets from nature is good, but doing so while respecting biodiversity is better.
This is ...