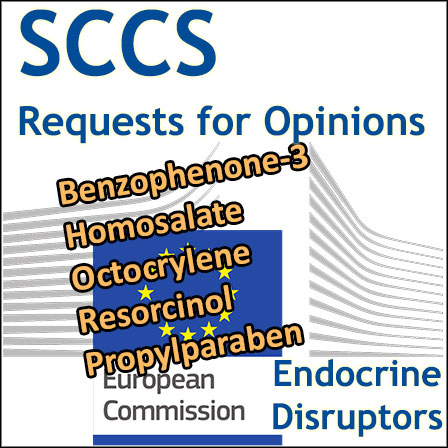 Following the publication of a list of 14 substances suspected of acting as endocrine disruptors to be assessed on a priority basis, and the subsequent call for data, the European Commission has just asked the SCCS for its opinion on the safety of five substances: Benzophenone-3, Homosalate, Octocrylene, Resorcinol and Propylparaben. The Scientific Committee has nine months to assess the safety of these ingredients and publish its conclusions.
Reading time : ~ 13 minutes
Background on substances with endocrine disrupting properties
On 7 November 2018, the Commission adopted a review of Regulation (EC) No.1223/2009 on cosmetic products ('Cosmetics Regulation') regarding substances with endocrine disrupting properties. The review concluded that the Cosmetics Regulation provides the adequate tools to regulate the use of cosmetic substances that present a potential risk for human health, including when displaying ED properties.
The Cosmetics Regulation does not have specific provisions on EDs. However, it provides a regulatory framework with a view to ensuring a high level of protection of human health. Environmental concerns that substances used in cosmetic products may raise are considered through the application of Regulation (EC) No 1907/2006 ('REACH Regulation').
In the review, the Commission commits to establishing a priority list of potential EDs not already covered by bans or restrictions in the Cosmetics Regulation for their subsequent safety assessment. A priority list of 28 potential EDs in cosmetics was consolidated in early 2019 based on input provided through a stakeholder consultation. The Commission then organised a public call for data from 16 May 2019 – 15 October 2019 on 143 of the 28 substances (to be treated with higher priority) in order to be able to prepare the safety assessment of these substances.
Benzophenone-3
Benzophenone-3 is one of the above-mentioned 14 substances for which the call for data took ...