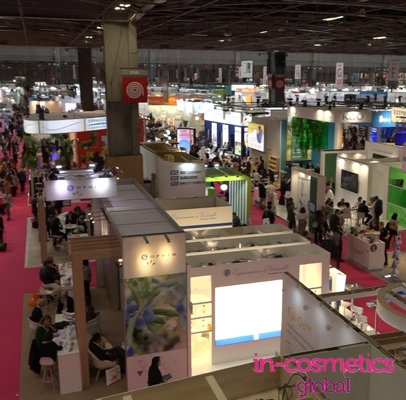 Every year, in-cosmetics brings together thousands of visitors curious to discover the latest innovations from ingredient suppliers. The 2019 edition had its share of beautiful surprises. A brief summary of the new features that caught the eye of the editorial staff of the Observatoire des Cosmétiques.
Reading time : ~ 5 minutes
From April 2 to 4, the Parc des Expositions de la Porte de Versailles vibrated to the rhythm of cosmetics.
Nearly 400 exhibitors from all over the world came to present their latest innovations, which may herald the cosmetics of tomorrow.
Fighting infrared
Light pollution has been a problem that the beauty industry has been trying to address for a few years. While many developments have targeted the harmful effects of blue light, Croda has chosen to focus on infrared.
"We have conducted studies, and we have found that infrared rays penetrate much deeper into the skin and cause premature photoaging," explains Aude Lemoine-Dessaint, Marketing Coordinator. "So we have found a solution and we propose Infraveil™ IT-100, an inorganic chemical filter that protects against infrared."
Reinvent the gestures of perfume
Whether you spray your clothes or spray the room to soak up an olfactory cloud, being perfumed is a daily routine for many consumers.
Seppic intends to revolutionize this routine by creating a "scented cream that contains 10% perfume and allows the final consumer to be offered a new way of perfuming himself without having to use alcoholic substances. It was obtained thanks to the patented technology Geltrap™," explains Élodie Brun.
Seppic's Cosmetics Market Manager ...