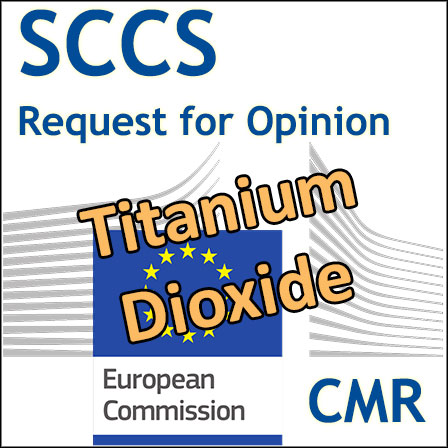 As expected, following the next classification of titanium dioxide as a category 2 carcinogen by inhalation, the industry has submitted a dossier to the European Commission to prove the safety of the substance and to obtain an exemption from its ban in cosmetic products. The Commission has just mandated the SCCS to give its opinion on the matter. The Scientific Committee has six months to finalise it.
Reading time : ~ 6 minutes
Background
Titanium dioxide (TiO2), (CAS/EC numbers 13463-67-7/236-675-5, 1317-70-0/215-280-1, 1317-80-2/215-282-2) is authorised both as colorant under entry 143 of Annex IV and as UVfilter under entries 27 and 27a (nano form) of Annex VI to Regulation (EC) No.1223/2009.
TiO2 is also used as a filler in cosmetic products (not subject to specific regulatory restrictions).
In 2000, SCCNFP concluded that the toxicological profile of TiO2 (opinion SCCNFP/0005/98): "… does not give rise to concern in human use, since the substance is not absorbed through the skin."
In July 2013, SCCS delivered a new opinion on TiO2 (nano) (SCCS/1516/1311). In that opinion, SCCS concluded that the use of TiO2 (nano) as UV-filter in sunscreens and at a concentration up to 25%, can be considered not to pose any risk of adverse effects in humans. The SCCS also considered that applications that might lead to inhalation exposure to TiO2 nanoparticles (such as powders or sprayable products) cannot be considered safe.
In 2014, SCCS provided clarifications of the meaning of the term "sprayable application/products" (opinion SCCS/1539/14). Furthermore, SCCS issued an additional opinion in 2018 (SCCS/1583/17) on TiO2 (nano form) as UV-Filter in sprays; it concluded that "the information provided is insufficient to allow assessment of the safety of the use of nano-TiO2 in spray applications that could lead to exposure of the ...