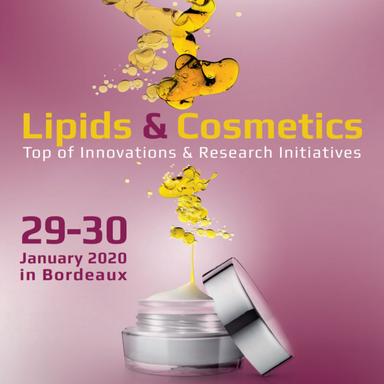 The scientific congress Lipids & Cosmetics will take place on 29th and 30th of January 2020 in the heart of Bordeaux. The New Aquitaine Region, ITERG and Cosmetic Valley in partnership with the University of Bordeaux invite you to explore the latest research and innovations in the fields of skin physiology, oleochemical processes, extraction, purification and analytical techniques as well as new formulation technologies based on raw materials of lipidic origin.
Cosmetics are products that are intended to be applied on skin in order to protect, to improve its look and to contribute to its well-being.
Our societal expectations, whether rational or not, condition research and development; the "do it yourself" trend has an impact on formulation and safety. Moreover, naturalness is at the heart of innovation and is a crying societal demand.
Lipids represent a significant part of the matter of all living organisms, and they play a key role both in their metabolism and in their structures, especially in the composition of cell membranes.
Lipids and their derivatives ensure skin hydration and form a protective barrier against external elements. Deficiencies in cutaneous lipids cause significant discomfort, which may develop into serious skin diseases.
About 70% of the raw materials used in cosmetics (mainly in emulsions, oleogels and lipsticks) are lipids (plant oils, fatty acids and alcohols, etc.) and derivatives (emollients, emulsifiers). They are participating to the stability of emulsions and creaming performances, contributing to a long-term emollience and appealing of the products on the skin.
Today, lipids, their nutrients and derivatives used in cosmetic formulations, are from different origins (oleaginous plants or exotics, fruits stones or pips, biotechnology and fermentation…) and must comply with new environmental regulations.
Innovation in the field of lipids is becoming a major issue for the industry of cosmetics that is constantly evolving, using raw materials obtained by following the most environmentally friendly and secure procedures, which are regulated every step of the way, to guarantee consumers the highest levels of quality, effectiveness and safety.
This second congress will provide an opportunity to discover the latest research initiatives and innovations being made in the fields of eco conception and lipid formulation.
Wednesday, 29
09.00 Lipids & Cosmetics Congress Opening
> Françoise Jeanson, Regional Councilor of New Aquitaine delegated to Health and Silver Economy
> Marc-Antoine Jmet, President of Cosmetic Valley
> Éric Papon, Vice-President of innovation - University of Bordeaux
09.30 Plenary
Lipids as tremendous ingredients for a clean, sustainable and innovative cosmetic
> Michel Grisel - University of Le Havre
Session 1 - Innovation in lipids for biosourcing and eco-conception: Green lipids
10.00 Plenary
Eco-extract and Ethanol: what solvent can still do for cosmetic oils
> Patrick Carré - ITERG/OLEAD
10.30 Presentation
Is green always better?
> Pieter Van Der Weeën - Oleon
Break and Posters session
Presentations
• Green extraction with a new lipotropic solvent for performant biomimetic skin actives: OSMOSTM concept
> Annabelle L'Hermitte - Hallstar
• NeossanceTM Hemisqualane, a socially and environmentally responsible alternative to D5
> Olivier Paquatte - SAFIC-ALCAN
• Natural Deep Eutectic Solvents for Microalgae Biorefinery in Cosmetics: focus on free fatty acids
> Leslie Boudescocque - University of Tours
• Naturality a new way of designing Polymers
> Marie-Odile Hecht - PolymerExpert
Session 2 - Innovation in lipids for biosourcing and eco-conception: Lipid raw materials
14.10 Plenary
Fatty esters as an alternative to petroleum-based ingredients in cosmetic applications: Formulate with more sustainability
> Hervé Plessix - Stéarinerie Dubois
14.40 Presentations
• Hemp Seed Oil-Trendy ingredient with proven efficacy on the skin
> Justine Thuleau - Symrise
• Evaluation of natural powders as emulsifiers
> Cécile JosephH - ITERG
• New method of determining HLB value of polyglycerol polyhydroxystearate polyricinoleate and application to the characterization of a new natural water-in-oil surfactant
> Maxime Nollet - Gattefossé
Break and Posters session
Presentations
• Soothing effect of virgin coriander seed oil on sensitive skin
> Catherine Kern - Seppic
• How to develop a minimalist high oil content emulsions with natural emulsifier
> Nabila Belhaj - Cargill
• Biosourced sensorial powders. From castor oil to polyamide-11
> Charlotte Herdt - Arkema
• Enriched lysolecithin extract for powerful natural emulsifying cosmetic ingredient
> Audrey Manière - IFF/Lucas Meyer Cosmetics
Thursday, 30
Session 3 - Innovation in lipids for lipids formulation: Wich strategy for wich results?
09.00 Plenary
Understand the hierarchical structure of the formulation for changing its raw materials?
> Frank Arzther - University of Rennes
Presentations
• Accurate determination of the hydrophobicity of oils (EACN) by the "Fish-Tail" and the "PIT-Slope" complementary methods
> Jean-Marie Aubry & Veronique Rataj - University of Lille
• How to visualize the 3D internal architecture of cosmetic formulations before and after application?
> Émilie Leccia & Jean Doucet - Novitom
• Impact and fate of emollients after application on the skin
> Elodie Faucheux - University of Le Havre
• What is the fate of multi-lamellar liposomes in skin?
> Chrystel Faure - University of Bordeaux
Break and Posters session
11.20 Presentations
• Optimization of antioxidants efficiencies in heterogeneous systems
> Pierre Villeneuve - Cirad Montpellier
• Enrichment of oils by polyphenol and protection against oxidation
> Maria Del Pilar Garcia-Mendoza - University of Bordeaux
• Skin protect oxidation prevention of cosmetic formulations through an airless dispensing innovation
> Florence Roullet - APTAR
• An optimized process for fatty acids profiling or quantitation in complex matrices using derivatization and LC-MSMS analysis
> Éric Andres - OROXCELL
• Structural characterization of polyglycerol esters of fatty acids by Supercritical-Fluid Chromatography coupled to High-Resolution tandem Mass Spectrometry (SFC-HRMS/MS)
> Thi Phuong Thuy Hoang - University of Paris Saclay
14.00 Plenary
Functional role of lipids in make-up products
> Hélène de Clermont-Gallerande - Chanel
Presentations
• Heat induced sweating and damage of fat based cosmetics: pathways in cosmetic formulation for sustainable products
> Patrick Snabre - University of Bordeaux
• Artificial intelligence in chemistry: An insight into computer-aided formulation
> Abdou Kane - InFlows
• Lipids emulsification: Clean-Label Cosmetics processing efficacy at the skin / hair surface: advantages and limits
> Nesrin Hesso - VMI (Vendée Mécanique Industrie)
• How do volatile oils ensure long-lasting make-up? Studies at different scales for formulation innovation
> Charlène Hubert - University of Rennes
FP
© 2019- 2021 CosmeticOBS