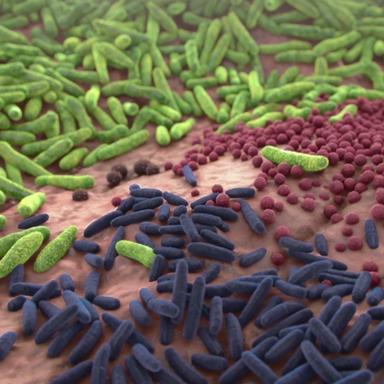 The new stars of the skin are them: bacteria. There are no less than 100,000 billion different microorganisms on our skin. Nothing to whiten, they are the guarantors of the good health of our epidermis. For several years now, scientists have been interested in microbial flora and have been trying to imagine how cosmetics and bacteria can work together to regulate certain skin problems. This is the case with L'Oréal's research teams. At a press conference in Paris on May 21, they explained to journalists how microbiome can revolutionize beauty.
The skin microbiome is an ecosystem composed of living microorganisms and is an integral part of the surface (one cannot be an integral part of a surface…) of the skin. Its balance is essential to the health of the epidermis
"More and more biologists are considering that man belongs to a complex ecosystem composed of billions of microbial species that reside on the skin, nose, mouth, lungs, intestines, i.e. all parts in contact with the outside world," explains Luc Aguilar, Research Director for L'Oréal R&I. "These microorganisms are bacteria, fungi, viruses… They live in communities that either collaborate or compete. Their balance is a guarantee of our health and well-being. There are about one million bacteria per cm2 of skin. To date, more than 500 bacterial species have been identified on healthy skin, which can express more than 2 million genes. The composition of this microflora varies according to the pH, temperature, humidity, salinity or sebum concentration of the body area in question, but also according to age, sex and multiple external parameters such as diet or environment. Today, we know the difference between the microflora of a young person and an elderly person because this signature changes with life's events."
Microbiome and cosmetics
A better understanding of the microbiome opens up the field of possibilities in cosmetics, at least that is L'Oréal's premise. According to Luc Aguilar, "the future will see the development of new diagnostic approaches based on microbiome characterization and new nutritional diets and therapeutic strategies to correct imbalances. The balance and diversity of microbiomes will be regularly monitored through diagnostic tests. And tomorrow, the treatments will be personalized. The next step will be to be able to use the microbiome's living arsenal to correct the signs of aging, better prevent changes in our skin and better treat disorders. In the longer term, we can intervene on this bacterial ecosystem directly on the skin or by changing our lifestyle habits. We will also soon be able to anticipate these disruptions to prevent certain diseases."
Dermocosmetic applications
Before dreaming of futuristic innovations, the cosmetics industry has already started to bring bacteria-friendly products to the market.
At La Roche-Posay, for example, microbiome has fascinated teams since 2009.
In particular, the brand has conducted 19 clinical studies on more than 1000 patients with various skin diseases and published 13 articles in scientific journals. She also discovered that La Roche-Posay thermal spring water was able to act on the skin microbiota and soothe certain skin diseases such as psoriasis, acne or dermatitis.
In parallel, La Roche-Posay has developed a postbiotic (molecule manufactured by good bacteria) capable of taking care of the bacterial ecosystem, and therefore the skin.
Aqua Posae, Filiformis, grown specifically in the thermal water of La Roche-Posay.
This active ingredient, present in the Lipikar, Tolerian and Effaclar ranges, helps to reduce dermatitis and acne flare-ups. It preserves the skin barrier and prevents the severity of the appearance of certain symptoms.
At Vichy, we tackle dandruff. Their appearance can be linked to hormones, fungi, psoriasis, seborrheic dermatitis… But also to seasonal changes, periods of stress or fatigue or during pollution peaks, because of an imbalance in the microbiome. "Several scientific studies have been able to objectify the link between emotional stress, environment and qualité́ life in the genesis of dandruff," says the brand. Vichy has therefore developed an anti-dandruff shampoo, formulated with Selenium DS active ingredient, designed "to rebalance the microbiome of the scalp, improve barrier function and reduce itching."
The skin microbiome fascinates the cosmetics industry and is a source of innovation.
With 100 billion microorganisms, more than 1000 different species on the surface of our skin, bacteria have not yet revealed all their secrets and the search for them will still have a bright future ahead of it.
The microbiota trend is not about to go out of fashion, on the contrary, it can only proliferate!
JS
© 2019- 2020 CosmeticOBS