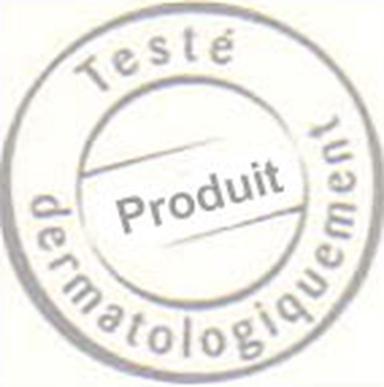 It can be seen as different versions on the labels. Nevertheless, be it "specially designed" or "tested", it always comes with the "dermatologists' monitoring", or depending on the application, gynecologists', dentists', stomatologists', ophthalmologists', or any other kind of medical specialist …
This mention gives a kind of authorized, scientific, reliable support. Thus, the manufacturer highlights a manufacturing process and a formula validated by an unquestionable person (a member of the medical profession), in view to assure the consumer of the interest and/or of the safety of its product.

This is what the mention says. What about to try and understand it better? Neither its availability nor its pattern is mandatory; it is up to the manufacturer only to decide to write it. It is only a way to certify that tests have been carried out on the product and that an M.D. ensures they have been performed. These two points deal with very different requirements.
Tests are carried out: is this a piece of information?
Keep in mind that the European regulations require that "cosmetic products marketed in the European Union should be safe under normal or reasonably foreseeable conditions of use." An hygiene or beauty product (contrary to medicines) may be marketed without prior authorisation. Therefore, the manufacturer is the sole responsible to the safety of the products it puts on the market. Tolerance and toxicity tests are then mandatory before marketing the product, to guarantee it is safe.
A product information file shall be made readily accessible to the sanitary authorities, including all the data that allow "for the assessing of its finished product for the human health, for control."
Reading this requirement, it is obvious that such a test procedure is more than only a "responsible process" by the manufacturer: it is mandatory for all the available products and in no way a means to differentiate from the competitors.
What about the "medical backing"?
Who are the dermatologists (gynecologists, dentists, etc.) mentioned on the label? First, what are their professional links? Do they belong to independent laboratories, or th the personnel of the manufacturer? What is their place in the tests' processes? Are they the designers and users of these tests, or do they validate them by signing at the bottom of the test report? The answers to these questions are weighty in the confidence we may have in their backing. These answers are never written on the labels.
We may think that this backing, though reassuring and important at first sight, guarantees … well, not so much.
© 2009- 2020 CosmeticOBS