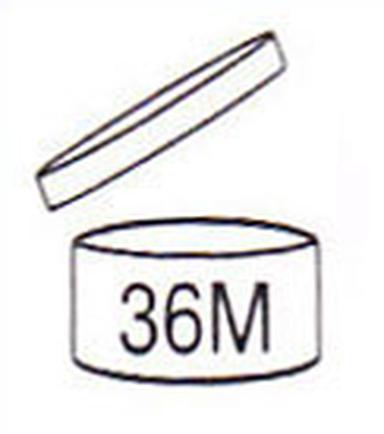 They give pieces of information, clarify requirements, give clues to know more about the products, and to use them the best way. All they have a specific meaning.
The open jar
It gives the period of use after opening , as a figure with a capital M for months. After this recommended period, the product may no longer be acceptable as regard to its quality or its safety. A good idea: write on the label, or the packaging, the date of opening, the only way for this logo to be useful …
The open jar is mandatory for all the products that may be used more than 30 months after manufacturing. For the others, the "Best before …" date is mandatory.

The open book
When the container or the packaging are too small for the printing of the mandatory mentions or of the Instructions for use, this open book lets the consumer know that these pieces of information are available on a separate leaflet, notice, or from the Internet.

Follow the arrow
In a similar manner, where the label is too small for the list of ingredients , this list may be printed on the back of the label, that shall be peeled off, the arrow showing the suitable point to do it. Lawful, but not that convenient to do in a shop to check the list prior to buying!
© 2008- 2020 CosmeticOBS