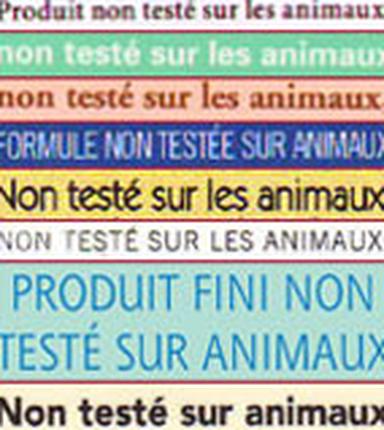 Here is a mention that, at first sign, seems to be explicit enough, stating that the manufacturer did not use animal testing to assess the tolerance or the sanitary safety of its product. However, after a closer look, and in most of the cases, this mention is particularly unclear, it even gives no information, or is even … illegal! Some clues.
The European Directive on Cosmetics products (and several of its amendments) has planned the progressive ban of animal testing of hygiene and beauty products. At the same time, it has issued a request for developing scientifically validated alternative methods, to assure consumers of the safety of products for human health.
The agenda
Several steps and target dates have been set up for a total ban:
• The first step: ban of animal testing of finished products, i.e. the products in their final formula, as marketed. This is mandatory since 11 September 2004.
• Second step: ban of animal testing of ingredients or combinations of thereof. Gradually enforced as alternative methods are validated. Target date (even if no alternative method is availble): March 11, 2009. An exception: if the ingredient is toxic due to repeated doses or toxic to reproduction: then, the target date is March 11, 2013.
How to understand the mention?
• A product with a mention as "Finished product (or Formula) not animal tested" says nothing more than "I comply with the law", as it is mandatory for all finished cosmetics, be it written or not, since 2004. It is NOT an information, nothing different from competitors' … if the law is enforced.
• More uncertain, the mention "No animal testing", when it does not say explicitly what is not tested. Is it only the finished product, or also its ingredients? When in such a doubt, the reason says "take the least restrictive option". Back to the previous point.
Nuances and (lack of) transparency
After the rules have been written, let us have a look at their implementation … and the disputes they give rise to, for different reasons.

About the definition : members of the "pro animal testing lobbies", as they are called by animal activists that ask for a complete ban of animal testing, get some results when trying to postpone or alleviate changes in regulation. They have been helped by France, which began by being against any ban. They point out that the mention "Not animal tested" or "Ingredients not animal tested" is almost always false, as almost all of the ingredients have been tested on animals, some time ago. There is only one way out: only new ingredients could be labelled, or a commitment to perform no animal testing in the future …
Some manufacturers use a loophole, suggesting mentions such as "Against animal testing" or "Do not use animal testing". Nevertheless, "do not use" does not mean "never subcontract tests" or "Do not order tests by ingredients' suppliers" … We are still waiting for a European text, which would be a stringent frame and would clarify mentions about no animal testing (up to now, the only document is a set of Guidelines, somewhat loose, issued in 2006).
About the application : how to check the current regulation is complied with? Quite difficult! Banning animal testing on finished products is not enough; manufacturers must also no longer use them, and should be prosecuted if they do. Especially in this area, the industry lacks in transparency. However, some official data are telltale signs: in 2005, i.e. the year following the implementation of the ban, cosmetics tests have increased by 107% in Europe! When the number of animals used has decreased by 12% in Germany, it was 5% higher in France.
About the statement: note that, after regulatory documents, the mention claiming the absence of animal testing is simply … to be ban on the label of a cosmetic, as it would breach the most basic rules.
The following one is typical; it should be introduced in the Common Criteria for claims which may be used to cosmetic products (a document in progress at the European level), which states: "Claims which convey the idea that a product has a specific benefit when this benefit is mere compliance with minimum legal requirements shall not be allowed." It is quite clear: nobody can claim to meet the regulatory requirements. In this case, animal testing being officially banned for all the cosmetics and their ingredients on the European territory, nobody could claim they were not used.
So a word to the wise … as this sentence makes many labels illegal! They should be redesigned with the questionable wording erased, quite soon, unless facing penalties!
No mention, then, though, as per Isabelle Orquevaux Hary, the Scientific and Regulatory Advisor in the French Federation of Beauty Companies (FEBEA), nothing prevents a manufacturer to proof its commitment in favour of the animal welfare, for instance, by displaying on the products packaging the Leaping Bunny logo of the One Voice association. It says the same thing, without telling it explicitly, as it is only the (official) proof that this manufacturer is a member of the association!
© 2012- 2020 CosmeticOBS