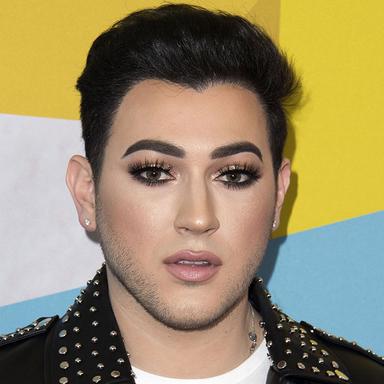 By small touches, the men put on make-up. Foundation, gloss or eyebrow pen: make-up is invading the shelves of more and more men. Covering, coloured, sequined or more discreet like concealer, it broadens the field of masculine possibilities and arouses the interest of brands.
The Chanel "BOY" collection (a foundation, a lip balm and a eyebrow pen) arrives in the brand's French stores during January. Joining Givenchy, Tom Ford or Jean-Paul Gaultier, who have already embarked on the adventure with similar products.
This bathroom revolution, mediated by successful YouTubers like Bilal Hassani, has yet to be put into perspective: according to the market research agency Mintel, only 5% of the new beauty and skincare products launched worldwide are aimed at men.
But if going out in the street wearing make-up is not yet common, for Georges Vigarello, a historian specialising in body representations and practices, the emergence of make-up among men is part of a well-established "gender requestioning".
An era of the pioneers
"I feel like I'm embodying something different," says Arthur Lefebvre. A 19-year-old student in cultural mediation at the Sorbonne, he started wearing make-up when he arrived in Paris in September 2018, initially to embrace the "queer codes". "We are not afraid to surpass, to be out of the ordinary," says Valentin Wimmer, an 18-year-old English undergraduate student in Strasbourg, who also claims to be gay.
"Those who embark on these practices have the feeling of being a bit of a pioneer," continues Georges Vigarello. The LGBT community is at the forefront of this evolution, but it is beginning to move beyond its initial framework.
The progressive affirmation of women in the public space, in the field of sport or the world of work, means that "male status is shifting" towards "a certain number of other qualities", such as "sensitivity, gentleness or aesthetics," judges Georges Vigarello. The old-fashioned manhood codes "to a certain extent, no longer make sense."
A business opportunity
In the United States, YouTubers such as Manny Mua or Jeffreestar already have more than ten million subscribers and are even launching their own cosmetics brands. In France, beauty YouTubers are still few in number. But since the early 2010, the precursors (Richaard2609, Maxime MakeupPro or Beautyction, among others) have already been followed by several hundred thousand Internet users.
Cosmetics brands have sniffed out the right deal, choosing to make some of these influencers their ambassadors. Richaard2609 has thus become one of Sephora's faces on French social networks. On its channel, it offers tutorials and product tests.
At Sephora des Champs-Élysées, where Richard worked, it is "very common""* for men to ask for make-up. The store does not have a male make-up department but will reference the "Mister" collection of Givenchy from January 21.
Sephora is often cited by young men, particularly for the inclusive aspect of certain referenced brands. Valentin Wimmer buys his base, some creams, foundation and powder. The same goes for Antoine Dubreuilh, 24 years old, image consultant in a ready-to-wear store in Paris. "Manly type", with a "gamer side", this young bearded man alternates between products with very soft shades and more conspicuous according to the occasions.
An evolution of aesthetic codes
Would make-up become a unisex product? **"We're not there yet,"* says sociologist Marion Braizaz. There remains an attachment to traditional gender aesthetic practices, according to which "both have at heart to distinguish themselves from the aesthetic work of the other sex.""
This "resistance" crosses classes and sexual orientations, the sociologist emphasizes. The way in which individuals juggle these aesthetic codes, however, suggests a "margin of manoeuvre" that male make-up may well invest more widely in the future.
FP avec AFP-Relaxnews
© 2019- 2022 CosmeticOBS