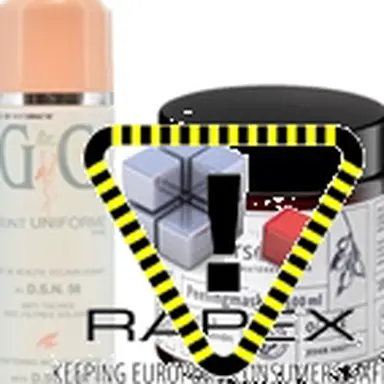 You may have them in your cupboards. Maybe, you use them, still. Beware: they are dangerous, illegal, harmful… and are the subject of a recall or ban by the European sanitary authorities. Underneath, you may find all the cosmetic products targeted by the RAPEX alert system this week: an lightening cream containing a sensitizing ingredient, and a face mask contaminated with bacteria.
Skin-lightening product

Brand : G&G
Name : Teint Uniforme-Lighteni
• Barcode: 7 52301 00100

Country of origin : Ivory Coast
Notifying country : Germany
Danger : The product presents a chemical risk. It contains contains kojic acid (measured value: 1.1% by weight). Kojic acid can induce skin sensitisation. The product does not comply with the Cosmetics Regulation.
Measures taken by economic operators : Withdrawal of the product from the market (By: Retailer)
Peel-off mask
Brand : dm alverde
Name : naturschön Peelingmaske
• Type: Olive

Country of origin : Austria
Notifying country : Germany
Danger : The product presents a microbiological risk. It contains mesophilic aerobic bacteria (measured quantity 3x105 cfu/ml) and the presence of Pseudomonas aeruginosa has been detected. If used on damaged skin or if it comes into contact with the eyes, the product may cause infection or irritation. The product does not comply with the Cosmetic Products Regulation.

Measures taken by economic operators: Recall of the product from end users (By: Retailer)
© CosmeticOBS-L'Observatoire des Cosmétiques
© 2017- 2022 CosmeticOBS