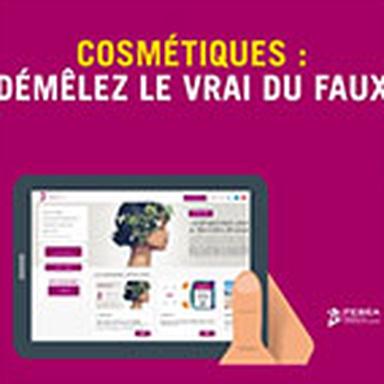 Parabens, phenoxyethanol, nanoparticles of titanium dioxide, PPD, phthalates, perfume allergens… FEBEA (French Federation of Beauty Companies) has decided to defend controversial cosmetic ingredients with a campaign entitled 'Distinguishing truth from falsehood'. Six videos of less than a minute are accessible to the general public on YouTube to pass on a few messages essential to the industry.
'As – sometimes contradictory or inexact – information keeps being broadcast "at click speed" on the web and its social media, it is only natural to provide a few clarifications on the ingredients used in hygiene and beauty products', explains FEBEA as an introduction to this new campaign posted online on September 18, 2017.
It is to counter recurring negative information on the safety of certain cosmetic ingredients that FEBEA decided to take action, by presenting their defence arguments in short videos.
Six videos were posted.
• Parabens
Here, we learn that these preservatives are 'our essential allies', that they 'provide protection against product degradation', and that they… 'can be found in nature, in red berries.' And of course, they are deemed 'safe by the European Scientific Committee on Consumer Safety (SCCS).'
• Phenoxyethanol
It is explained that it is a 'risk-free preservative at a maximum concentration of 1%', that it is 'neither an allergen, nor an endocrine disruptor,' and that it is 'assessed by the authorities and safe for any use, even in infants.'
• Nanoparticles of titanium dioxide
The video highlights the fact that it is 'an excellent UV-filter', its ' safety has been confirmed by scientists,' and 'no one is allergic to it.'
• PPD
Here, the basic premise is that 'for permanent hair dyes, there is no alternative', and that 'it is allergenic indeed,' but 'there is actually no tar in it.'
• Phthalates
It is reminded that 'only diethyl phthalate is used' in cosmetics 'to prevent perfume from being turned into illegal alcohol' and it 'is not an endocrine disruptor.'
• Perfume allergens
'No panic' is the first message passed on in the video: 'it is very rare to be allergic to a perfume.' Then, it is emphasized that 'plant-derived allergens are well-known' and… they 'are often found in perfumes, organic products, and essential oils.'
The cosmetics industry's usual arguments when it comes to defend its ingredients are implicit, but easily recognizable: validation by health authorities and scientists, responsibility of manufacturers who know their own raw materials and use them advisedly to guarantee the product efficacy expected by consumers, compliance with regulations…
And in passing, it is quite clear they have a dig at natural and organic ingredients.
All this makes their communication strategy quite old-fashioned, although at least they do have a strategy and they do try and speak up differently, considering today's debates. Still… consumers are getting ever-more wary. Will that do to convince them?
© CosmeticOBS - L'Observatoire des Cosmétiques
© 2017- 2020 CosmeticOBS