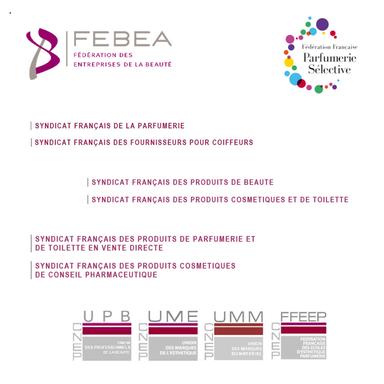 Following the French Prime Minister's statements, representatives of cosmetics manufacturers and the hair care and beauty care professions are uniting to call for the rapid reopening of local shops, salons and institutes. They recall that their products are essential for the hygiene and well-being of the French people, and plead for the "one and only solution to put an end to incomprehensible and unacceptable distortions of competition".
Among the signatories of this call are the FEBEA (Federation of Beauty Companies), the French Federation of Selective Perfumery, the French Perfumery Union, the French Union of Beauty Products, the French Union of Hairdressers' Suppliers, the French Union of Cosmetic and Toiletry Products, the French Union of Perfumery and Toiletry Products for Direct Sale, the French Union of Pharmaceutical Consultancy Products.
Press release of 2 November 2020
Closing the beauty shelves of supermarkets: a false solution for everyday products
The first lockdown had demonstrated it: the French are very attached to being able to continue to buy their hygiene-beauty products, which are everyday products. Taking care of oneself is essential for well-being and self-esteem, and decisive for the mental balance of the French. In fact, all beauty and hygiene products without exception are considered to be mass consumption products within the meaning of the Commercial Code, i.e. products with a high level of recurrent consumption.
From a practical point of view, how can we imagine separating care and beauty products from hygiene products? In most supermarkets and hypermarkets, as well as in convenience shops, shelves are common. For Patrick O'Quin, President of the FEBEA, "we can't imagine that each department is scrutinised product by product to define whether it is essential or not. Applying a moisturising cream to irritated skin or hair colouring is essential for well-being and self-esteem. And you can buy it in a few minutes while you're shopping for food, so it doesn't change anything in the health context."
Are we going to deprive hospital staff, teachers in the national education system, agents of other public services or employees in mass distribution who have to go and work in their respective establishments of these products?
The signatories also point out that this approach is questionable as it would require only the sale of essential food products to be authorised: here too a selection should be applied, which does not seem to be planned.
Hairdressing and beauty care at home must be prohibited
Another distortion of competition that would be unacceptable is to allow unsafe home care services to be provided, even though closed hairdressing and beauty salons have put in place rigorous health protocols and standards that have proven their worth since May.
In this respect, the signatories support the remarks of the Ministry in charge of SMEs Alain Griset this morning who wishes to ban home care.
The only solution is the fastest possible reopening of local sales outlets and services in strict compliance with the highest health standards
The only solution that reconciles respect for health constraints and fair competition is the reopening of shops such as hairdressing and beauty salons as well as perfumeries, which are essential to the social ties and well-being of the French people.
It should be remembered that all these businesses generate at least a third of their turnover before Christmas. For Patrick O'Quin, one thing is clear: "If perfumeries cannot sell their Christmas boxes and their perfumes, which are among the favourite gifts of the French, it is the big e-commerce platforms that will win."
The signatories recall that many of their products or services are either essential to barrier gestures (soaps, washing gels, hydro-alcoholic products, shampoos) or complementary to these gestures (creams and care products) to fight against irritation induced by frequent washing or the wearing of protective equipment.
Hairdressers, beauticians and perfumery sales staff have been exemplary in the rapid and impeccable implementation of rigorous barrier gestures: implementation in a few weeks of an AFNOR standard validated by the public authorities, elimination of cosmetic product "testers" etc. All this confirms that these professionals or establishments cannot be considered as vectors or propagators of the disease. However, the signatory professions are ready to go even further in implementing even more stringent health rules if necessary.
FP
© 2020- 2021 CosmeticOBS