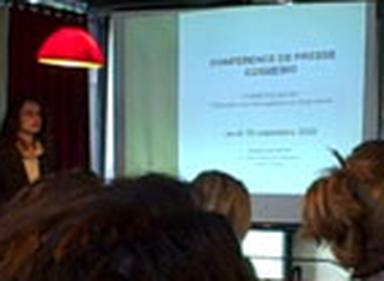 The harmonisation of the different European organic cosmetics labels was a dream… until the various negotiations underway made us think that it would become a reality. "He's coming," they said…. We're not saying anything else today. We'll just have to wait a little longer….
The first COSMOS certifications were expected this September (2009). They were even announced with near certainty last May… In fact, they will not arrive until early January 2010.
The topical issue organised by the Cosmébio association on 10 September confirmed this: the summer, while it was productive and allowed progress to be made in the various stages that should lead to the long-awaited arrival of the new European COSMOS-Standard… was finally successful, but a little less than expected.
What's missing, what's still blocking it? Oh, nothing, nothing… or so little!
A legal existence
No start-up without a formal legal structure. It will be an GIEE (European Economic Interest Grouping). We are waiting for its final registration… soon. In the meantime, we are looking for premises for our headquarters in Brussels.
Harmonized certifications
On the other hand, it is not enough to have (almost) developed a single reference system. It is also necessary that the various organizations that will ensure and control its respect all do so in the same way. And which says European charter also means an increased number of certifying bodies, from the French Ecocert and Qualité France to the English of the Soil Association, via the Italians of ICEA, the Germans of Precert or the Belgians of Certisys… Questionnaires for cosmetic manufacturers and control procedures are still being approximated. The next meeting for their harmonisation, which is expected to be final, is scheduled for 15 October 2009.
Logo or no logo?
How to indicate on the labels the adherence to the new COSMOS standard? Without losing the credit and the now recognized identity of the various labels already existing throughout Europe? Should one logo be replaced by another (but which one?)? Should we only affix a "signature" in the form of a mention under well-known logos, at the risk of creating confusion in the minds of consumers? Should we put the old logos and a new one side by side? The issue is debated and has not yet been resolved.
Beyond these few "details", there is still to be decided on the "transition period" (3 or 5 years?) which should allow the various actors to adapt to the new requirements of COSMOS-Standard, and during which certain provisions of the reference framework will not yet be applied in their entirety. And to publish the final version of the text.
Everything should be ready, we are promised, by the end of the year.
We hope so, we are waiting for him!
LW
© 2009- 2020 CosmeticOBS