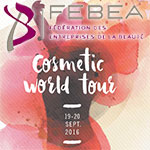 Two days to simplify export, this is what the FEBEA proposes on 19 and 20 September 2016. With a complete program of conferences and thematic workshops to understand and anticipate regulatory obligations, meet specialists from around the world, obtain all the key information to export.
Reading time : ~ 3 minutes
Middle East, ASEAN, Latin America, Russia, USA, China… are on the program of these two days. This world tour will mark its stages with conferences presented by French and foreign regulatory experts, and thematic round tables that will address export hot spots.
The conferences
Middle East - IPG MENA: our ambition, our actions
- Virginie d'Enfert, Director of Economic, Environmental and International Affairs, FEBEA
Saudi Arabia - eCOSMA Notification: developments to come r - Mishal Altamimi, Saudi Food and Drug Authority Director of Cosmetic Listing Department
United Arab Emirates - ESMA/Dubai Municipality: towards the end of double registration?
- Jean Nassar, Scientific and Regulatory Affairs Manager, Middle East North Africa, L'Oréal - Ali Wanas, Global Products Stewardship, P&G
Iran - What developments since the lifting of sanctions?
- Hajir Hakim Hachemi, CEO, Laboratoires DermEden Paris
ASEAN - Can we still talk about an ASEAN directive?
- Olivia Santoni, Head of Regulatory and International Services, CTPA
Latin America - Special Envoy Road Book : South America
- Barbara Héry, Head of Regulatory Affairs, LVMH Research
Russia - How to comply with regulations? Challenges ahead
- Elsa Dietrich, International Relations Manager, Cosmetics Europe - Valérie Tanzilli-Laroche, International Regulatory Affairs Policy Officer - R&D ...