June 2, 2011
A greater scope for this label was anticipated; goal achieved.
As per now, the One Voice label will ask not only for a ban of animal testing on the finished products, but also for a ban of these tests on all the ingredients.
Furthermore, it bans animal extracts or substances, except for honey, pollen and bee wax.
Another new development, this label will be given only to organic products, certified by an independent third party.
Ethics and organic products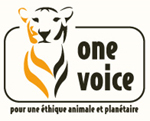 Indeed, the One Voice new way of doing is " to promote products harmless for living entities and for the planet", which, " be they French or aliens, do not harm animals, human beings or our planet". Within this frame, as stated by a 18 May press release, "organic agriculture is the only possibility, nowadays, to ensure a sustainable and eco-aware farming of the Earth …", in the same way as "organic beekeeping is a means to help for the future of bees", which "play an integral role in the chain of life".
The new shaping of this label allows for the certifying of many other products used every single day, other than cosmetics, such as food, clothes, household products, gardening specialties, etc.
The new logo is ready for use. Allow the manufacturers some time to comply with the new requirements, to design new packaging: it should be seen on the labels of our cosmetics within some months.
For further information
• Website of One Voice (in French)