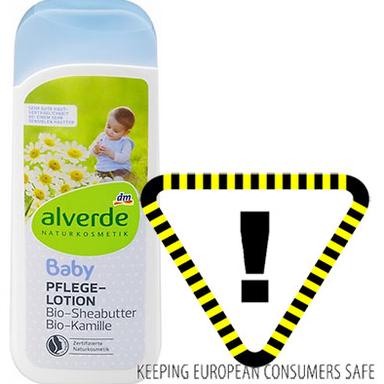 You may have them in your cupboards. Maybe, you use them, still. Beware: they are dangerous, illegal, harmful… and are the subject of a recall or ban by the European sanitary authorities. Underneath, you may find all the cosmetic products targeted by the RAPEX alert system this week: a baby lotion contaminated with pathogen microorganisms.
Baby Lotion
Brand: dm alverde


Name: Pflege-Lotion
Batch number: all batches and best-before dates
Barcode: 4 010355219015
• Country of origin: Germany
• Notifying country: Germany
Risk type: microbiological
The product contains an excessive amount of mesophilic aerobic yeast (measured value at least: 260 cfu/g), among which Wickerhamomyces anomalus.
This yeast might be an opportunistic pathogen, which could lead to infection, if the product is used by immune-compromised persons or applied on damaged skin or mucous membranes.
The product does not comply with the Cosmetic Products Regulation.
Measures taken by economic operators: Recall of the product from end users, Withdrawal of the product from the market (By: Retailer)
IB
© 2020 CosmeticOBS