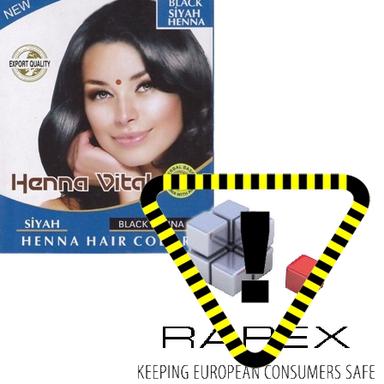 You may have them in your cupboards. Maybe, you use them, still. Beware: they are dangerous, illegal, harmful… and are the subject of a recall or ban by the European sanitary authorities. Underneath, you may find all the cosmetic products targeted by the RAPEX alert system this week: a hair dye containing a prohibited ingredient and a highly allergenic colorant.
Hair dye
Brand: Henna Vital

Name: Henna Hair Color
Type: Black/Siyah Henna
Barcode: 8906043560117
• Country of origin: India
• Notifying country: Austria
Risk type: chemical
The product contains sodium perborate (calculated value: 12,8 %), which releases boron (measured value 1,7 %) and an excessive amount of p-phenylenediamine (PPD)(measured value > 7.3%, > 2 % in final solution).
Contact with an excessive quantity of boron may harm the health of children by damaging their reproductive system or damage the unborn child.
PPD is an extreme skin sensitiser and can trigger allergic contact dermatitis.
The product does not comply with the Cosmetic Products Regulation.
Measures taken by economic operators: stop of sales (by retailer).
IB
© 2020 CosmeticOBS