Eyeshadow palette
Brand: Anylady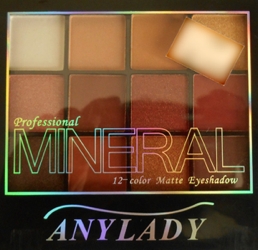 Name: Professional Mineral 12-color Matte Eyeshadow
Batch number: A8924
Barcode: 7521890446578
• Country of origin: China
• Notifying country: Slovaquia
Risk type: Chemical
The product contains an excessive amount of lead (measured value: 507 mg/kg).
Lead is harmful to human health, accumulates in the body and can affect fertility, breast milk or the fœtus.
The product does not comply with the Cosmetic Products Regulations.
Measures ordered by public authorities (to importer): recall of the product from end users, withdrawal of the product from the market.
Source
• Rapid Alert System - Weekly Reports, Rapport 27, European Comission, 05/07/2019