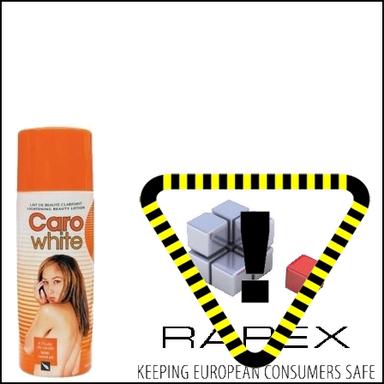 You may have them in your cupboards. Maybe, you use them, still. Beware: they are dangerous, illegal, harmful… and are the subject of a recall or ban by the European sanitary authorities. Underneath, you may find all the cosmetic products targeted by the RAPEX alert system this week: a skin lightening lotion that contains hydroquinone.
Skin-lightening product
Brand: Caro Light


Name: Lightening Beauty Lotion
Type: with carrot oil
Batchnumber: L 10B78376
• Country of origin: Democratic Republic Of Congo • Notifying country: Germany
Danger: The product contains hydroquinone (measured value: 3.8 % by weight).
Hydroquinone can cause skin irritation and dermatitis and might also induce cancer. Its use is prohibited in cosmetic products in Europe. The product does not comply with the Cosmetic Products Regulation.
Measures ordered by public authorities (to importer): destruction of the product, import rejected at border.
IB
© 2019- 2020 CosmeticOBS