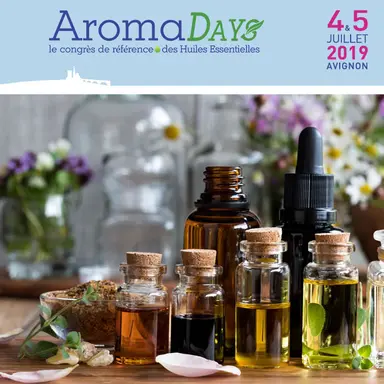 The market for essential oils is growing exponentially. It is therefore imperative for manufacturers to be as familiar as possible with the design, claims and prescription of products based on essential oils. The Aromadays, organized by Cosmed, in Avignon on July 4 and 5, are intended to provide all the answers on the subject to professionals in the beauty and health sector.
"The market for essential oils continues to grow, driven by consumers' enthusiasm for'natural'. In 2015, there was a world production of 180,000 tons of essential oils. It is estimated that this production should more than double by 2024, with particular interest in aromatherapy," explains Cosmed. "The design, claims and prescription of products based on essential oils are therefore major issues for manufacturers and health professionals. The Aromadays congress will provide all the modern scientific evidence to control aromatherapy claims, risk prevention and the proper use of essential oils."
Claims in aromatherapy: modern scientific evidence
• New anti-infective properties: EHs face the global challenge of multi-resistant bacteria
> According to a WHO publication in 2018, "Antibiotic resistance is now one of the most serious threats to global health, food security and development". Essential oils as a response to this global challenge of multi-resistant bacteria will be presented by Dr Philippe Carenco - Medical Officer of Health - Hyères Hospital Centre.
• EH in the respiratory sphere: from well-being to scientific evidence - Demonstration of pharmacological activity
>Dr Nicolas Monjotin, Non-Clinical Strategy Manager, Consumer Healtcare Innovation Unit Pierre Fabre, will present an overview of recent studies on improving the well-being of many people with asthma or allergies following the use of essential oils.
• EO in the management of muscle and joint pain
>Laurent Berlie - Director of EONA Laboratories will present scientific data on the action of certain essential oils, particularly those of lavender and peppermint, in the management of muscle and joint pain.
• HE and dermocosmetic products: applications and their scientific basis
>Dominique Davenne - University Teacher - University of Rennes
• HE and central nervous system: contribution of EH in EHPAD
>The use of essential oils as "therapeutic supplements" in EHPAD for the reduction of anxiety and sleep disorders will be presented by Delphine Bienon - Neuropsychologist and Thierry Podevin, pharmacist.
• Use of neuroscience to assess the benefits of EH
>Vanessa Gonnot, Senior Research Investigator, IFF-LMR will provide evidence of the impact of essential oils on mood.
• Essential oils and medical claims: Case law in authority/industry disputes in Europe
>The recommendations will be detailed by Sylvie Gallage-Alwis, Signature Law Firm, particularly during the interpretation of products that border the drug. Risk prevention and proper use of essential oils
• Misuse and toxicity: exposure to and prevention of serious adverse reactions
>Dr Nadine Martinet, Institut de Chimie de Nice, will discuss the latest misuse statistics.
• HE and allergy: what mechanisms? Which substances are involved?
>Charles Laroche, Head IFRA Europe, will present the results of the latest IFRA studies that question the allergenic potential of limonene and linalol.
• HE and indoor air: the contradictory debate on VOCs
>On several occasions, sprays based on essential oils (air fresheners, cleansers or anti-mites) have been targeted by some mainstream media where they are considered "polluting" for interiors and "irritating" for the respiratory tract. The differences between natural VOCs (e. g. fragrance molecules in flowers) and anthropogenic VOCs (e. g. benzene) will be presented, as well as the results of a consumer study on nearly 22,000 users.
• Quality of EO: controls to be carried out for a quality
>Quality of essential oils: are there any frauds? What are the techniques to identify them? What can be done to ensure the quality of the products placed on the market? Hélène Chaumont, Director of Regulatory Quality and Puressential Safety, will present the controls to be carried out to guarantee the quality of HE.
• EH labelling
>Melly Van Chinh and Nadège Testa, Naturakem, will present the two cases of labelling essential oils: wholesale sales, where the CLP regulation applies, and retail sales governed by five regulations (cosmetics, food supplements, biocide, medical devices, etc.).
• Endocrine action of EO: updated data
>Jean-Marc Giroux, Toxicologist Pharmacologist, Coordinator of the Consortium H.E., President of Cosmed will conclude the day with the most recent scientific data on the endocrine action of essential oils.
IB
© 2019- 2022 CosmeticOBS