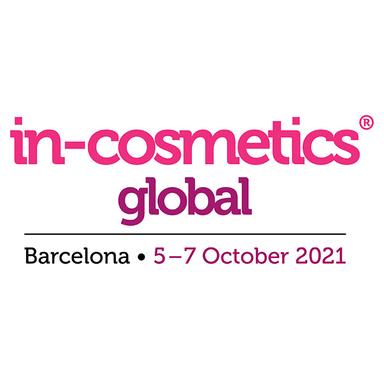 It is the global meeting place where suppliers of cosmetic ingredients come to show visitors and buyers from all over the world their latest innovations. Unavoidable, but once again postponed because of the Covid-19 pandemic. Originally scheduled to take place in Barcelona from March 31 to April 2, it was postponed a first time from June 30 to July 2, then again from October 6 to 8 in view of the situation in Spain and Europe. It was finally rescheduled from 13 to 15 April 2021, and then again from 5 to 7 October 2021.
If there is one show that all industry players are waiting for, it's in-cosmetics. At this event, raw material manufacturers launch their new active ingredients.
"in-cosmetics Global is not just about exhibition stands. We put the emphasis firmly on interactivity, bringing the products and formulations to life through a series of areas, zones, labs and activities. These innovative feature areas cut the time it takes you to find the products and suppliers you are looking for. From areas dedicated to new ingredient launches, to demonstrations of the latest finished product trends, and an awards ceremony judged by industry experts, there's something for everyone," explain the fair trade organisators.
Different spaces will therefore be to be explored.
• Formulation Lab®
"Participate in practical formulation training sessions, delivered by experts in a purpose-built lab environment on the show floor."
• Innovation Zone
"Discover the most innovative NEW ingredients & formulations to have hit the market, either having been launched within the 6 months prior to the show or at the show itself."
• Sensory Bar
"Experience innovative textures, smell evocative fragrances and find surprising tastes by trying out a wide range of new products at the Sensory Bar."
• Sustainability Corner
"Explore the latest trends and developments in personal care sustainability & discover how the cosmetics industry is moving beyond compliance via changed business operations."
• Make-Up Corner
"Put new make-up formulations to the test in the brand new Make-Up Bar. A range of new colour cosmetics will be on show; try new formulations and discover new technologies."
• Marketing Trends
"Gain insight into the latest industry trends, facts, figures, market analysis and research, plus the latest challenges in personal care manufacturing."
• Fragrance Zone
"Get expert advice, learn about regional differences and source aromatic components for your personal care formulations from leading fragrance suppliers."
IB
© 2020- 2021 CosmeticOBS