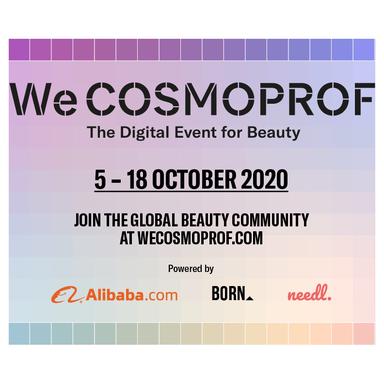 For lack of physical event this year, the organizers of Cosmoprof propose a second edition of WeCosmoprof from October 5 to 18, 2020, in partnership with Alibaba, Born and Needl for the development of the platform. 13 days to allow exhibitors and visitors to keep in touch and exchange on the novelties of the sector.
"The current economic scenario confirms that in order to face the next challenges imposed by the market, it is necessary to create a compact system. Thanks to its reputation, built in more than 50 years of history as a reference event for all players in the beauty industry, Cosmoprof today has the ability to aggregate the most innovative digital platforms on the market and create strategic synergies for the growth of the sector. It is only by combining our skills and services that we can respond adequately to the current needs of the market," explains Gianpiero Calzolari, President of the BolognaFiere Group (organizer of the event editor's note).
On the program, new digital tools, match-making platforms and webinars on the latest trends will be made available to companies and international operators.
"Thanks to the synergy with Alibaba.com, Born and Needl, WeCosmoprof will be able to increase the production potential of companies, buyers, retailers and distributors, providing them with ad hoc digital spaces to discuss new projects and work on strategies for the future. WeCosmoprof is a business gas pedal, aimed at meeting the individual needs of distribution channels and sectors of the cosmetics industry," adds Enrico Zannini, Managing Director of BolognaFiere.
Conference themes
The guiding theme of the various meetings is post-Covid recovery.
The organizers have planned several sessions with different axes.
The rebound of beauty
This sequence will analyze new opportunities for brands and operators as a result of changes in consumer behavior, the unique needs that drive the shopping experience, and the unprecedented interaction between online and offline channels.
The new order of digital beauty This theme will focus on the possibilities offered by the digital tools developed during the pandemic, offering suggestions for an effective marketing and communication strategy on the web.
A New World for Future Generations and Economic Recovery This section will analyze how the pandemic has increased attention to environmental issues.
IB
© 2020- 2021 CosmeticOBS