March 20, 2017
| 
SCCS
Basic Blue 99, TiO2 [nano] in sprays: Two Opinions of SCCS
pro
Add to my portfolio
pro subscription only feature
see our subscription plans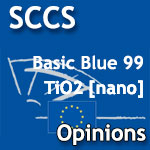 On 10 March 2017, the SCCS published its Opinions on the cosmetic hair dye ingredient Basic Blue 99 (C059) and the Titanium Dioxide (nano-form) as a UV-filter in sprays, adopted its plenary meeting of 7 March 2017. For both of them, the Committee did not reach to a definitive opinion. These Opinions are open to comments until May 14, 2017.
Reading time : ~ 5 minutes
Basic Blue 99 (C059)
Background
The substance Basic Blue 99 (INCI) (CAS: 68123-13-7) (COLIPA NoC059) with the chemical name 3-[(4-amino-6-bromo-5,8-dihydro-1-hydroxy-8-imino-5-oxo-2-naphthalenyl)amino]-N,N,N-trimethyl benzenaminium chloride is a direct hair dye substance in hair dye formulations with a concentration on-head of maximum 1.0%.
In April 2016, EFfCI submitted a dossier (Submission IV) containing new information on composition in an update of the analytical description of market quality and other data.
For full background information, see the article
• Hair dye, UV-filter: two requests for Opinion to SCCS of November 15, 2016
Opinion
1. In light of the new data provided, does the SCCS consider Basic Blue 99 (C059) safe as direct hair dye substance in hair dye formulations with a concentration on-head up to a maximum of 1.0%?
The SCCS cannot conclude on the safety of Basic Blue 99 (C059) because it is composed of several substances and isomeric forms, with a large variability between the composition of different batches. Also, the toxicological data provided in the previous submission do not relate to the material specifications provided for the current assessment. The safety assessment of Basic Blue 99 will require a clear well-defined set of specifications for the composition of the material intended to be used in cosmetic products as well ...