May 16, 2019
| 
SCCS
Butylphenyl Methylpropional: Final Opinion finale of the SCCS
pro
Add to my portfolio
pro subscription only feature
see our subscription plans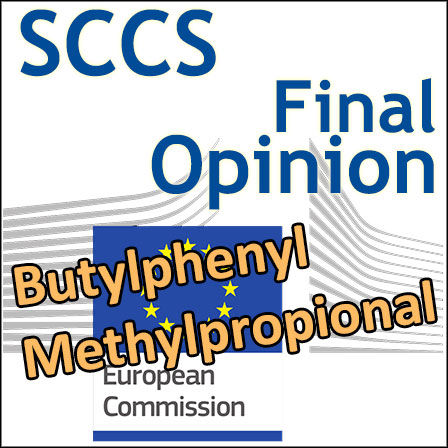 The SCCS has just published its final Opinion on the safety of the fragrance ingredient Butylphenyl Methylpropional. It has been adopted by written procedure on 10 May 2019, after the end of the commenting period following its initial publication, and the consideration of comments received by the Scientific Committee.
Reading time : ~ 4 minutes
Background
The substance 2-(4-tert-Butylbenzyl)propionaldehyde (BMHCA, Lysmeral) CAS No. 80-54-6 with INCI name Butylphenyl Methylpropional is a fragrance ingredient used in many compounds for cosmetic products as well as in non-cosmetic products.
In an Opinion of 2015 (SCCS/1540/14), revised on 16 March 2016, the SCCS conclude that its use was not safe at concentration limits set up by IFRA, and that no firm conclusion could be drawn on its mutagenicity.
In March 2017, IFRA submitted a new safety aimed to defend its use, including includes a revised proposal for maximum use levels.
For full background information, see the articles
• Butylphenyl methylpropional, HEMA: Opinions of the SCCS, of 2 January 2018
• Butylphenyl methylpropional: 2nd request for Opinion to SCCS of 12 June 2017
• SCCS: a reassessment of Butylphenyl methylpropional is foreseen of 12 April 2013
• Butylphenyl methylpropional: 'Not safe' for SCCS, of 18 September 2015
• Fragrances, Hair dyes: 5 requests for Opinions by the SCCS , of 25 September 2013
• Allergens: more substances, more limitations of 31 July 2012
This Opinion has been subject to a commenting period of a minimum eight weeks after its initial publication (from 20 December 2017 until 19 February 2018). Comments received during this time were considered by the SCCS, and resulted in several changes in tre SCCS comments as well as in ...