Jan. 25, 2016
| 
SCCS
Cetylpyridinium chloride: the SCCS revises its Opinion
pro
Add to my portfolio
pro subscription only feature
see our subscription plans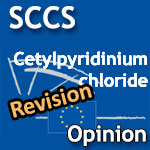 On March 25, 2015, the SCCS has adopted an Opinion on the cosmetic preservative Cetylpyridinium chloride. This Opinion has just been revised, during the plenary meeting of December 15, 2015.
Reading time : ~ 4 minutes
Background
In 2006, a first Opinion on Cetylpyridinium chloride was published with the following conclusion:
" In view of the poor quality of the toxicological data presented in the current dossier, the SCCP requires a new dossier to be submitted in which data is provided to all relevant toxicological end-points and conforming to currently accepted standards. "
A 2nd submission was submitted in July 2011 by Cosmetics Europe supplemented by separately submitted company data.
The SCCS has adopted its second Opinion on March 25, 2015.
For exhaustive background information, see the articles
• SCCS: Soon-to-be-released opinions on two new preservatives (December 4, 2013)
• SCCS: Opinion on Cetylpyridinium chloride (April 22, 2015) [ID 2959]
Opinion
In bold, the modified parts
1. On the basis of the data provided, does the SCCS consider that Cetylpyridinium chloride is safe for consumers, when used as a preservative in cosmetic products in the following specified concentrations:
• mouthwashes cosmetic products up to a concentration of 0.1%
• all other oral hygiene cosmetic products up to a concentration of 0.5%
• skin lotions and creams up to a concentration of 0.2%
• anti-perspirant deodorants up to a concentration of 20 %
Except for potential skin, eye and oral mucosal irritation, the SCCS considers that the use of Cetylpyridinium chloride in a ...