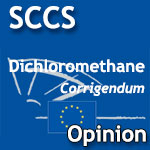 The SCCS has just published a Corrigendum to its Opinion of 25 March 2015 on Dichloromethane. The experts have modified their answer to the question about their 'further scientific concern' to include all spray formulations.
Reading time : ~ 3 minutes
This Opinion on Dichloromethane has been adopted during the SCCS plenary meeting of 25 March 2015.
For exhaustive background information, see the articles
• SCCS: 3 requests for Opinion (January 7, 2015)
• MBBT [nano], β-Arbutin, Dichloromethane: 3 Opinions of the SCCS (April 13, 2015)
• SCCS Opinion: Dichloromethane is not considered safe (Decelmber 21, 2012)
The answer to question 3 has just been completed.
Opinion
In bold, the additional text
1. In light of the new data provided, does the SCCS consider Dichloromethane (CAS No 75-09-2) safe when used in cosmetic products under the current use conditions up to maximum of 35%?
No new data on the neurobehavioural effect s and the exposure-related observations in humans of dichloromethane have been provided in Submission IV.
The conclusion remains therefore as in the previous Opinion on dichloromethane (SCCS/1408/11):
'The evidence does not suggest that dichloromethane shows cardiotoxicity or reproductive toxicity in man except at high levels. Although it is carcinogenic by inhalation in the mouse, factors have been identified which explain the higher susceptibility of mice compared to humans. Quantification of the risk to humans by modelling and comparison of the toxicokinetics indicates that the cancer risk that dichloromethane may pose would be negligible.
Due to the inadequate data on exposure by hair spraying and limited data on ...