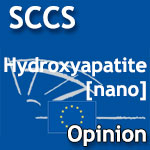 The SCCS published its Opinion nano cosmetic ingredient Hydroxyapatite, adopted by written procedure on 16 October 2015. This Opinion is open for comments until 8 January 2016.
Reading time : ~ 6 minutes
Background
The Commission received 35 notifications of cosmetic products containing Hydroxyapatite (CAS No 1306-06-5) in nano form. This ingredient is reported in the CosIng database, but it is not regulated in Cosmetic Regulation (EC) No.1223/2009.
The Commission has concerns on the use of Hydroxyapatite in nano form because of the potential for nanoparticles of Hydroxyapatite to be absorbed and enter into the cells.
For exhaustive background information, see the article
• SCCS: 4 requests for scientific Opinions of June 30, 2014
Opinion
1. In view of above, and taken into account the scientific data provided, the SCCS is requested to give its opinion on the safety of the nanomaterial Hydroxyapatite when used in oral cosmetics products including toothpastes, tooth whiteners and mouthwashes with a maximum concentration limit of 10%, taking into account the reasonably foreseeable exposure conditions.
Only a limited amount of data was provided by the Applicants that corresponded to the SCCS Guidance on Safety Assessment of Nanomaterials in Cosmetics (SCCS 1484/12). The provided data were also not in line with the SCCS Memorandum on Relevance, Adequacy and Quality of Data in Safety Dossiers on Nanomaterials (SCCS/1524/13). To facilitate the assessment, the SCCS therefore also considered additional information gathered through a search of the published scientific literature. However, ...