Nov. 25, 2019
| 
SCCS
Nanos (Gold, Platinum): Requests for Opinions to SCCS
pro
Add to my portfolio
pro subscription only feature
see our subscription plans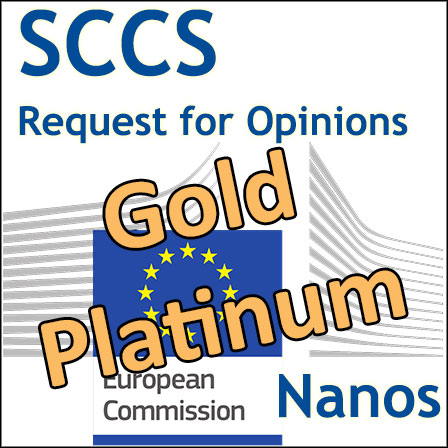 Following the mandatory notifications of the ingredients in the form of nanomaterials under the Cosmetics Regulation 1223/2009, the European Commission asked the SCCS to assess the safety of several substances, not yet reported as nanos. The requests were published on 22 November 2019 and cover substances containing platinum and gold.
Reading time : ~ 11 minutes
Gold [nano] - Colloidal Gold [nano], Gold Thioethylamino Hyaluronic Acid [nano]et Acetyl heptapeptide-9, Colloidal gold [nano]
Background
Article 2(1)(k) of Regulation (EC) No.1223/2009 (Cosmetics Regulation) states that "nanomaterial" means an insoluble or biopersistent and intentionally manufactured material with one or more external dimensions, or an internal structure, on the scale from 1 to 100 nm.
That definition covers only materials in the nano-scale that are intentionally made and are insoluble/partially soluble or biopersistent (e.g. some metals, metal oxides, carbon materials, etc.). It does not cover those that are soluble or degradable/non-persistent in biological systems (e.g. liposomes, emulsions, etc.). Article 16 of the Cosmetics Regulation requires cosmetic products containing nanomaterials other than colorants, preservatives and UV-filters and not otherwise restricted by the Cosmetics Regulation to be notified to the Commission six months prior to being placed on the market. Article 19 of this Regulation requires nano-scale ingredients to be labelled (name of the ingredient, followed by 'nano' in brackets). If there are concerns over the safety of a notified nanomaterial, according to Article 16 of the Regulation the Commission shall refer it to the Scientific Committee on Consumer Safety (SCCS) for a full risk assessment.
The Commission services received under Article 16 of the Cosmetics Regulation via the Cosmetic Product Notification Portal (CPNP):
• 236 notifications for ...