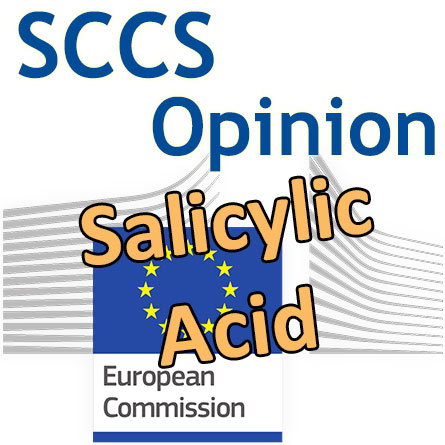 The SCCS has just published its final Opinion on the safety of Salicylic Acid. It has been adopted by written procedure on 21 December 2018, and includes some modifications compared to the previous version.
Reading time : ~ 5 minutes
Background
The SCCS adopted its Opinion on the safety of Salicylic Acid by written procedure on 10 September 2018.
This Opinion has been subject to a commenting period of a minimum eight weeks after its initial publication (from 10 September until 14 November 2018). Comments received during this time were considered by the SCCS.
For this Opinion, comments received resulted in the following main changes: sections 3.3.1.1. - 3.3.2.1 - 3.3.6.2. (SCCS comment), 3.3.2.2. (SCCS conclusion), 3.3.10, and 3.4.1. Changes in the discussion part and in the SCCS conclusions have been made accordingly.
For the full background information, see the article
• Salicylic Acid: Opinion of the SCCS of 17 September 2018
The new conclusion
in bold italic, parts modified
1. In light of the new data provided, does the SCCS still consider Salicylic acid (CAS 69-72-7) safe when used as a preservative in all cosmetic products up to a maximum concentration of 0.5% (acid) considering its current restriction as reported above?
The SCCS considers Salicylic Acid (CAS 69-72-7) safe when used as preservative at a concentration of 0.5% in cosmetic products considering its current restrictions in place.
This Opinion is not applicable to oral products (such as toothpaste and mouthwash) with the exception of lipsticks.
Sprayable products that could lead to exposure of the consumer's lung by inhalation are also excluded. ...