May 12, 2014
| 
SCCS
TiO2 and ZnO (nanos): revision of the SCCS' opinions
pro
Add to my portfolio
pro subscription only feature
see our subscription plans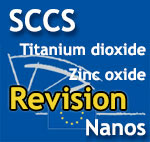 The SCCS' Opinions on nano-Titanium dioxide and nano-Zinc oxide, adopted by written procedure in July 2013, have been amended on 22 April 2014. After the commenting period of six weeks, the Committee has made some changes to these two texts.
Reading time : ~ 8 minutes
Titanium dioxide (TiO2)
Background
• See the article TiO2, ZnO, MBBT: three nanos evaluated by the SCCS
Opinion
In bold, parts of the text that have been modified
1. Does SCCS consider that use of titanium dioxide in its nanoform as an UV-filter in cosmetic products in a concentration up to maximum 25.0% is safe for the consumers taken into account the scientific data provided?
On the basis of the available evidence, the SCCS has concluded that the use of TiO2 nanomaterials with the characteristics as indicated below, at a concentration up to 25% as a UV-filter in sunscreens, can be considered to not pose any risk of adverse effects in humans after application on healthy, intact or sunburnt skin. This, however, does not apply to applications that might lead to inhalation exposure to TiO2 nanoparticles (such as powders or sprayable products). Furthermore, this assessment applies to 13 out of the 15 TiO2 nanoparticles presented in the submission, but may also be applicable to other TiO2 nanomaterials that are similar to the parameters in Tables 1-3, i.e. TiO2 nanomaterials that:
• have TiO2 purity of ≥ 99% , or in case of a lesser purity, the impurities must be demonstrated to be safe for use in cosmetic formulations;
• are composed ...