Jan. 11, 2016
| 
SCCS
Trace level of 1,4-Dioxane: request for Opinion to SCCS
pro
Add to my portfolio
pro subscription only feature
see our subscription plans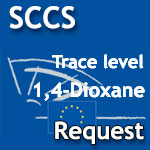 The acceptable and safe trace level of 1,4-Dioxane in cosmetic products, and the conclusions of the ICCR's report on this topic will be formally evaluated by the SCCS. The request from the European Commission was published on January 4, 2016.
Reading time : ~ 4 minutes
Background
The International Cooperation on Cosmetics Regulation (ICCR) is an international group of regulatory authorities for cosmetics from Brazil, Canada, the European Union, Japan, and the United States. This multilateral framework seeks to promote regulatory convergence, while maintaining the highest level of global consumer protection and minimizing barriers to international trade.
ICCR has identified the responsible handling of traces of banned substances as a topic of international relevance. As a result, it decided to work on this with a view of aligning on best practice among the ICCR regions, while fully respecting their specific regulatory regimes. To this end, a working group was created, which included experts from the jurisdictions' regulators and industry.
The group prepared a general Report for ICCR on Principles for Handling Traces in Cosmetics, which was published in 2011. In addition, among the substances of concern, it selected 1,4-Dioxane which was assessed individually in order to identify harmonized best practices across the ICCR regions and give recommendations.
It should be made clear that these documents have no regulatory status. However, the report on 1,4-Dioxane could be used as a supporting reference by market surveillance authorities in the EU and beyond, and as a useful starting point for discussion, should ...