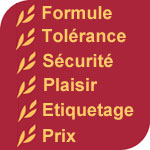 Formula, tolerance, safety, pleasure, labelling, price… A list of six criteria has been defined by our experts to evaluate the different aspects of cosmetics. Checklist.
Reading time : ~ 10 minutes
Formula
Evaluation of the composition and its efficacy.
When reading the list of ingredients, the experts first determine the value of the product. They check to see whether the active ingredients needed for the product to deliver on its claims are present, and whether they are present in sufficient amounts to be truly effective. The experts also check whether any substances might prevent the claimed action, whether all the components of the formula are welcome, whether the preservation system is balanced and has a broad enough scope of action, whether the packaging reinforces (or not) the safety of the formula, and so on.
This initial impression is followed by an observation of the true effect of the product in a test under real conditions of use.
Tolerance
Evaluation of skin tolerance (irritating potential of the product) and the risk of allergy.
The primary focus is on ingredients that can trigger adverse reactions, whether immediate or delayed, the degree of harm they cause, their concentration in the formula, and any interactions with other ingredients that are also present (which can increase or dampen their primary characteristics).
This raw data is then compared with field observations.
Safety
Evaluation of three facets of ...