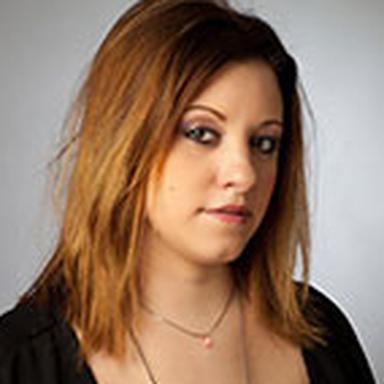 She works in television, but you never see her. She travels with the Miss France contestants, but she's never onstage… Christelle Rischner is a professional make-up artist. She is passionate about her profession and takes us on a backstage tour. Details.
Professional training
Christelle is 29 years old. She was drawn to beauty and make-up at an early age. She grew up in France's Lorraine region, where her mother and her friends were her first models. She knew this would be her profession even before she started secondary school, but since she was too young to enter a specialised school, she earned a professional diploma in sales (BEP Vente) before following through with a beautician's degree (CAP Esthétique): ' I thought I needed the degree to get into make-up school, but I didn't! ' That's right: you don't need any special training to be accepted in a make-up school, but since these schools do not issue nationally recognised diplomas, it's a good idea to have a back-up plan.
In 2005, Christelle moved to Paris and began her nine-month training programme at the Make Up For Ever Academy in Paris. ' You can train for three, six, or nine months. I went with nine months to get the most complete training possible.' Today, the Academy offers intensive training programmes – which can range from one week to two months – as well as longer programmes lasting six, seven, or ten months. The programme comes at a cost, however, which was €7,000 for Christelle. Today, the ten-month programme costs more than €8,000.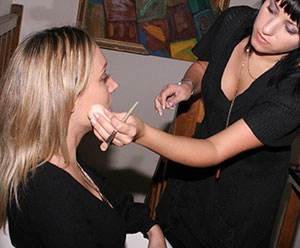 During her nine months of schooling, Christelle was extremely busy as there was a lot of knowledge to be absorbed over a short period of time. ' I learned about beauty, fashion, filmmaking, theatre, and body-painting. It was very intense.' It's true, make-up is more complicated than it seems and nothing was left by the wayside. ' People tend to think that make-up is simple, but we spent a month on the complexion alone '.
She graduated from the school in 2006 and has been succeeding in the profession ever since, but ' with ups and downs! ' It is hard to break into the profession. You have to send out dozens of CVs and expect to be rejected most of the time. Above all, you have to make a name for yourself: ' Since I came from Lorraine, I knew no one in Paris. Fortunately, we were lucky enough to do a lot of work placements with the school, so that's how I made contacts.' Christelle has only been working ' regularly ' for two and a half years and this is due in large part to the contacts she established during work placements, such as the one she did with the Miss France pageant, as well as contacts made later and also her perseverance.
At the core of the profession
Make-up artistry is a tough business and it is hard to make a name for oneself, but when one does, it is well-deserved. Many people tried to persuade Christelle not to follow this path, as job opportunities were nearly non-existent. ' In Lorraine, "make-up artist" means "beautician", but it's not the same thing. ' But thanks to her strong will and the support she received from her parents, she stayed true to her childhood dream and has succeeded in moving forward little by little. Throughout her years of work, Christelle has been able to practice her art in a diverse range of environments such as television and the corporate world, which gave her the opportunity to meet many different people who have always been kind. ' People really are nice. I never work with the same people because I'm always on the move. I do a lot of different things.' She has also been offering her services to brides for the last three years. And one of her fondest memories is the Miss France pageant, where she worked with Élodie Gossuin, Valérie Bègue, and Laury Thilleman. ' All of the contestants were gorgeous… They change as the process plays out because they all want to win, but the atmosphere is great and I've stayed in touch with a lot of the girls, who have become friends. '
It was a good atmosphere where she was able to learn to work more quickly and learn to deal with stress: ' There is a lot of pressure since the make-up will be seen by a lot of people, but over the last eight years, I have become more confident and I don't get stressed out about the results. ' She was also able to go on two week-long trips with the contestants, one in Thailand and the other in the Dominican Republic. ' It was intense but those trips are my fondest memories. ' She also remembers a shoot in the mountains, where the working conditions were particularly difficult. ' It's not a bad memory, but doing touch-ups on skis isn't ideal. '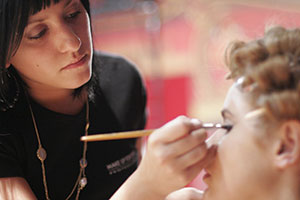 On TV, Christelle has left her mark on several shows such as Nouvelle Star , Star Academy , the Ice Show , and Sosie or not Sosie , where she did make-up for Martin Solveig, Christophe Maé, Laurent Ournac, and Mireille Darc.
And one day in television is never the same as the next: when she arrives, Christelle receives a call sheet with her schedule for the day. The pace can vary greatly: ' Schedules can be back-to-back, or you might end up with two-hour breaks. '
Often, the make-up style is set by the artistic director or by the production team, and she also has to deal with the preferences of the people on whom she is applying the make-up: 'Models generally trust their make-up artist, but some people are more demanding, especially those who know their skin well… but it's rather rare.' This is also true of the brides she works with: ' Some people are used to using their own brands of make-up, so I have to adapt to each of their requests, especially if the client is allergic to certain products. '
Recently, Christelle worked for BNP Paribas (photo and film shoots) and for Hublot, a brand of Swiss luxury watches in the LVMH group, on a film shoot in Geneva.
And afterwards?
Currently self-employed, Christelle would like to keep working for television and one of her dreams is to be a make-up artist for feature films. But TV and film make-up artistry aren't the same: make-up for television is a lot 'heavier' than that of film, which has to be almost invisible: ' It has to remain barely visible and look natural, unless there is a transformation like adding a hairpiece or ageing. ' As a result, it's hard to get a foot in the door without experience even if you have the expertise. ' Seeing as how I'm really focused on TV, beauty, and photo shoots, filmmaking is really hard to get into. ' And once you're in the door, don't expect to become the head make-up artist in a heartbeat. On the contrary, you have to start over again on the bottom rung.
Christelle's advice for aspiring make-up artists can be summed up in two words: hang tight. ' They really have to follow their passion and do what they want to be doing, even if it's hard. It's a great profession!'
© CosmeticOBS-L'Observatoire des Cosmétiques
© 2014- 2020 CosmeticOBS