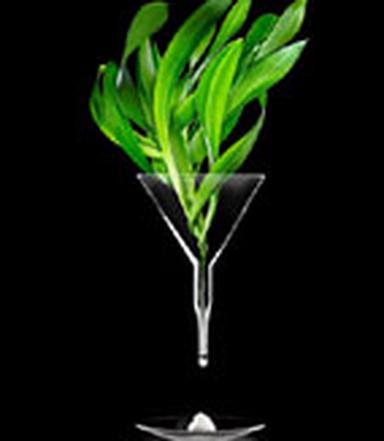 Considered as a UFO in the world less and less felted cosmetics, envied or criticized by many for its marketing communication that stands out, Cyrille Telinge does not leave indifferent. At 40 years old, the young creator of the NOVExpert brand, marketed in pharmacies since March 2008, displays with ease his green convictions and shoots red balls at the edges of conventional and…organic cosmetics. Sincere words to move forward in a better (cosmetic) world!
Fascinated by new technologies, converted the time of his biarrot escapades to surfing, passionate about science, committed ecologist and follower of the Seignalet diet * … Cyrille Telinge is all of these at once. And even a little more. It i i nscr it in the new generation of ethical and responsible cosmetic designers with sometimes iconoclastic itineraries. A succession with convictions and a roadmap worthy of a summary of Psychologies magazine still struggling to jostle the s giants established in the sector, but already finding the support of informed consumers.
Family Spirit
Ev acuons tout de suite le fait que Cyrille Telinge soit le fils des fondateurs de la marque de prêt-à-porter Cyrillus, bapt isée ain if in 1977 in reference to his first name. Except it's already a family adventure and a way of being apart. With so n father, he created the Bioware laboratory in 1996. A company which he still manages and which formulates, manufactures, packages and exports toe internationally for major pharmaceutical groups but also for luxury goods and organic brands. Then, he launched his own brand, NOVExpert, where we still find him with his family surrounded by his father, his sister Clarisse, and even his brother Alexandre, who came to take care of sales for a while.

Electron-free
An electrically charged particle (positive), that's what Cyrille Telinge is! Very good speaker, he speaks quickly, a lot and well: int We need to share our interests, develop ideas and listen. Practical for actively defending oneself against commercial offensives that are not always very regulatory (inelegance even among the greenest)… Cyrille Telinge has also travelled and read extensively (scientific, alternative and alternative medicine books that he is particularly fond of). And because after a convalescence that clarifies ideas and changes a little his way of life, curiosity and action are also signs of good health.
Free. To leave a meeting with a buyer of a large chain of perfumeries with disrespectful methods. And then denounce them for the benefit of all. Free to refuse to work the formulation of very large unscrupulous laboratories on their safety tests. Despite contracts at stake.
A cocoon company
A leitmotiv in Cyrille Telinge's speech: well-being. Also and above all as a primary value e and f one da the identity of his company. Because seen by him as a cocoon, it is his fallback solution not to let himself be parasitized by negative energies. For a step back and not of consciousness. Thus, to be well and happy with the people with whom he works at NOVExpert, he says he prefers simplicity, tolerance, adaptability and healthy human relationships based on trust. This allows a professional environment respectful of all its actors, by limiting tensions and power relations. This translates into a flexible organization with a human dimension for this SME of 35 people, a head office in the country in a dwelling house, a weight training device present in the founder's office, computers that move in the garden on sunny days or telework in municipal libraries or elsewhere as it pleases the NOVExperts… This could also be concretized in the years to come by this project of implantation in a green economic research center (with positive energy) with botanical garden cultivated by the autistic children of the neighbor school… A charge, is all this too good to be true? Is it an entrepreneurial mirage or the managerial exception that confirms the rule? To discharge, serenity and smiles in Gometz, the head office…
A Dream Team of researchers
This is the originality of the NOVExpert laboratory. A committee of wise men composed of retired cosmetics industry experts and former researchers, who get together for a formulation think tank to innovate with younger recruits. Without pressure and in complete freedom apparently… Results: patents and innovations put on the market or which later feed the products NOVExpert.
Thus, 7 years of research were necessary to develop a process to exclude preservatives from the cosmetic formula. Found by gelling water to avoid bacterial contamination. Similarly, it is under these conditions that NOVExpert's research centre has developed Novaxylin, this ingredient derived from an algae, the flagship active ingredient in the range. Research that allows NOVExpert packaging to display an impressive 0% list: 0% Preservatives (0% Paraben, 0% Phenoxyethanol…), 0% Silicones, 0% Mineral Oils, 0% PEG… And in the name of the precautionary principle, to also exclude more than 1600 ingredients (listed on its website) in order to offer"effective, healthy and safe" products…
Biodegradability
Another of NOVExpert's battle horses is the biodegradability of the ingredient and therefore of the formula in relation to the user's skin and the environment. Because several scientific studies have shown that chemical substances are found in the body a few hours after the application of a cosmetic product, Cyrille Telinge and her team of researchers wanted to develop the most natural formulas, good for the skin and health. Safe, at first, not to develop allergies (the ranges are hypoallergenic). And in the long term, by not accumulating in the body and not polluting our rivers.
Dark green or greenwashing?
Cyril Telinge, like many others, is concerned about the impact of pollution on our health, our well-being (here it is again!) and the future of our planet. ir of our children. In short, to hear him, he wants to be an advocate of an ecology that is responsible, humane and intellectually honest. A real philosophical program too. Accused by some organic proponents of doing greenwashing, is Cyrille Telinge with NO VExpert so green he says so? Inventory to make the most skeptical green.
Ethiq ue and locavore for the purchase of its cosmetic ingredients (less than 200 kms), it encourages its distributors (incentives to support) to favour the boat rather than the plane for the routing of orders. In addition to the use of recycled paper, vegetable inks (like many others before him too)…, he stopped using pump bottles (his unconscious process rvateurs, he says, allows him to do so) in favour of tubes, which consume less energy. And even if progress still remains to be made in the area of cardboard overwrapping (which it is true is beginning to disappear with certain products), there is still a lot to be done. uits of the white range) and the choice of export (essential for the economic survival of a brand but also very polluting), it is to note, that all the activity of the company is fully offset carbon since 2007, and not only the manufacture of its products. A step forward to salute. Who traces a clear future for this cosmetic adventure!
* The Seignalet diet recommends a return to the original diet (without milks of animal origin and their derivatives, without modern cereals containing gluten, without cooking food above 110°C, without cooked oils… and favouring ingredients of organic origin and vitamin supplements). For more information..: Food or Third Medicine D r Jean Seignalet, editions de L'œil, 660 p., 32 €.
© 2010- 2020 CosmeticOBS