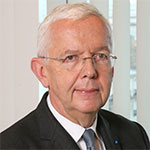 Loïc Armand gave CosmeticOBS an interview at the second edition of the Cosmetics Europe Week held in Brussels last June 15-19, 2015: role of the cosmetics industry, market prospects, regulatory changes, topical issues (claims, labelling of allergens, controversial ingredients…), dialogue with consumers… the President of Cosmetics Europe did not evade any issue.
Reading time : ~ 27 minutes
The role of the cosmetics industry
Loïc Armand : We are definitely convinced of the social role of our industry. Some say, and I would not like anyone to be able to say it anymore, that it is not important, only cosmetic. Unfortunately, the meaning of this word has been distorted. Cosmetics are important . They are not futile, they are actually useful . We believe that if people, men or women, look at themselves in the mirror in the morning and feel comfortable in their own skins, they will act more positively towards the people around them during the day. Therefore, I think we play an essential social role, including in times of crisis, regardless of our role in employment, research, and science.
I would even go so far as to say that given the demographic situation in Europe – the population is aging, more than anything – it is gaining in importance: having a good self-esteem even as we get older and see wrinkles and white hair appear is important too.
Prospects for the cosmetics market
The demographic revolution
Loïc Armand : One of the significant elements to be taken into account, although it is still largely unknown ...