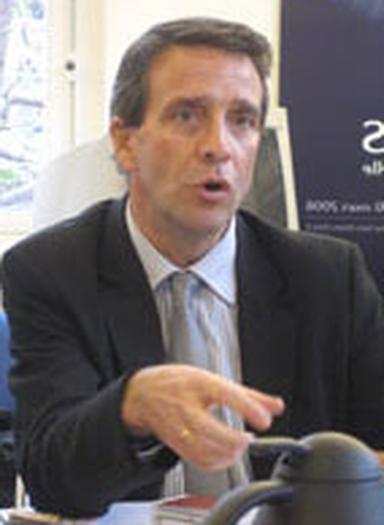 His days are busy. He has appointments in Paris as in Marseille. Alternatively, in Lyon, or Nantes, or … everywhere in France. He is 52 and is the "Members' Coordinator", full time, for Cosmed. What is Cosmed? What kind of job is being the Members' Coordinator? If you know nothing about such a job (neither s, before meeting him, we must admit), come with us! Let us go for a full day with him in Paris, with a motto: Cosmed, Cosmed, and Cosmed …
His office is in Marseille, on the Mediterranean coast, as well as his home and his family. However, when we meet him, it is always elsewhere, as on this November day, when his day begins in a meeting room, made available by Covalmar, a manufacturer, in the Muséum national d'histoire naturelle de Paris (National Museum of Natural History).


Sit at the table, a PhD in biology, a vegetable extracts producer, a female entrepreneur, a consultant in cosmetics … All are members of Cosmed, and based in Paris area. The topic is the preparation of the future Cosmed Parisian branch, set for December 9.

Cosmed? Members? Parisian branch? You need more details?
His look, his way of talking (and his rhythm!) are more of a good sales clerk. Michel Ceccaldi gives explanations.
Cosmed, the association of the cosmetic industry SMEs
" Cosmed has been established less than ten years ago to link the small and medium companies (SMEs) of the cosmetic world. Currently, 60% of our members have less than ten salary people. All kinds of companies may join. Raw materials suppliers, manufacturers of finished products, primes, experts and consultants: all are welcome, as far as they have to do with cosmetics. "

To all these actors of the cosmetic world, Cosmed first action is to give advice, pieces of information, training.
For instance, training includes: the basics of formulation, the good practices of manufacturing (GPM), management of the biological risk, regulation on the finished products labelling, requirements to comply with before placing a product on the market, the management of legal risk, stock management, regulation for export … among some fifty different items.
Further, the association helds Information Days, and makes available to its members a survey of national and international regulation.
Cosmed as a watchdog
" Four people work now in the Cosmed Regulation Department, " Michel Ceccaldi says, " They compile the texts in force in France, in Europe and the world over, to help the members which export. They make them available on the Cosmed website. This is very easy to use, with a search engine, which, when given the keywords, makes everybody happy to find quickly the pieces of information he needs. Additionally, these people fill in summary sheets for many topics (more than 1,400 are already available!), and they answer specific questions through phone or email messages … "


" They provide a very valuable service," Richard Hermann, Ardex manager confirms, " to every question, even very specific and hard-edged, a quick answer … at an affordable price. "
" For me, the main Cosmed characteristic is its responsiveness ", Nabila Chemillier, Nérolys brand founder, adds. " Further, people are very approachable. Cosmed, it is also a support … "
" And a network," Denis Duplat, Covalmar, adds. " Information days are also an opportunity to meet other people from the same industry, partners or potentials customers… "
This "link-mind-set" between the members is of the utmost importance to Cosmed.
Maintaining the best connection
" The association works well, thanks to the strong personal profile of its secretary general, Robert Faure," Michel Ceccaldi explains. " An amazing character, brimming over with energy and dynamism, who never lost his rural common sense, which he instilled into the network. It may be called the Cosmed culture. At the very beginning, this association was based in Marseille, and its first members were all in southern France. "

However, the small association has grown up to more than 510 members, all over France, and even in other countries close to France (Belgium, Switzerland …).
To be far away weakens links; members feel isolated, and they do not know well how their association may help them. Somebody was needed to put the links back in service. A …Members Coordinator, indeed …and Michel Ceccaldi got the job last May.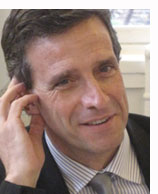 " It is still a role to invent. I spend a lot of time paying visit to members, while giving them clues about the services they may get from the association. I take time to listen to them and learn about their more specific requests. It is my duty, for instance, to connect members who can do business together, or can exchange services or share pieces of information, or can pool their resources … I must say that, sometimes, I use my visit to collect subscriptions not yet paid! "
Local offices
Due to the Mediterranean origin of the association, the first Cosmed offices were all in southern France (Languedoc-Roussillon, Midi-Pyrénées, Aquitaine…).
Nowadays, Cosmed has 75 members in the Paris area, circa fifty in Lyon area, and almost as many in Western France. To keep alive the local links so important for the association, the network had to be enlarged, through local offices … that Michel Ceccaldi shall install.

In every involved area, a steering committee comprises volunteer members to help define the needs and plan the programme of the launch day, on 2 December in Lyon, on December 9 in Paris. In spring 2010, the same scheme will be used for the Grand Ouest (Western France) office.
Further links
Another duty of Michel Ceccaldi: to keep alive the links with the official services and organizations. In his schedule: meetings with Regional Directorates for the Environment, with Chambers of Commerce, with other institutions that can help small companies, with competitiveness clusters or universities, a lecturer in a technical conference, a banker … or a journalist!

" The aim is always the same: to build a network, to locate people or the institutions that can help members.
Cosmed is not there to invent again, what already exists. We do not want to be a substitute to official bodies and structures that do a good job. We are here to help our members go to the most suitable organizations, depending on their needs, when, sometimes, they do not even know that such an organization exists!
To sum it up, I could say my job is to be always eyes and ears wide open, to keep my mind alert, to be able to understand and analyze the requests of any member, and to put in place answers, relationship and links, in a word, that, on the long term, will help our entrepreneurs. "

Explained this way, for sure, it is easy to understand why Michel Ceccaldi has a passion for his new duties!
© 2011- 2020 CosmeticOBS