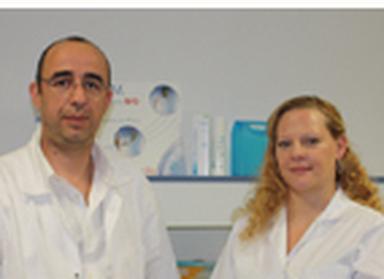 They met in 2006 and didn't meet each other the first time they met: they had so much in common! First of all, this same vision of what their future children should be and become, of how they should be conceived in order to be able to present them to the world with pride. They wanted them good, pleasant and useful, almost irreproachable. Didier Lopez and Mylène Pillot thus became Papa and Maman Dermatherm, united in the same cosmetic desire, carried by the same requirements, and also happy today with their first babies conceived together: a whole range of organic and dermocosmetic hygiene and care products that are out of the ordinary.
He is 45 years old, has worked 15 years in nuclear medicine and computer science, and now manages the family business CLTech that he created;e in 2001 with his brother Christophe and that he wanted to diversify by creating a cosmetic branch,"a sector where one can bring something in terms of care".She is 32 years old, specialized in aromatherapy and botany during her pharmacy studies, chose to become a formulator:"I was looking for my ideal product," she says,"I ended up doing it myself. At first, however, they tried to discourage me: they told me"pharmacists do not become formulators, the R&D (Research and Development) sector is blocked"… I persevered".He knew all about hormonal or antibody assays in the field of oncology, radiation therapy techniques, or automation to ensure operator protection…
She had seen her mother's body in the past..;She and her aunt suffered from skin problems, her childhood had been bathed in a dermatological environment, she was sensitized to the toxicity of plants and very small already (at 4 years!).), she did her first product tests by spreading her face on the butter from the family fridge and announcing with certainty:"Mom! Ointment…".
Destinations to cross
He wanted to develop a range of cosmetic products containing only active ingredients that were good for the skin, removing all that was not, so that the daily action of theuse of a cosmetic does not involve any risk and that it remains a pleasure for life…
She had seen, during her training courses after studies, theto beauty and the nonsense of cosmetics, the addition of substances at the last moment because a formula does not hold, marketing claims on an active preIn the trace state, the standardized formulas which are always used, always the same, as a base for several types of products, from sun cream to night cream: "A different perfume, a different dye and it's done. It's easy to make an illusion. Cosmetics has forgotten the real values: those that lead to skin care that does not hurt.
He did not have 10 years of investment and habits behind him: he was new in cosmetics, starting from a"virgin ground" completely conducive to innovation.
She was (still is!) carried by a real anger against the"greats" of cosmetics:"I find it unacceptable that they continue to put in their products components harmful to the environment or to health when there are alternative solutions. In cosmetics, we see aberrant things: formulators are under pressure, we ask them for yield, to act ever faster. They are subject to the requirements of marketing which never takes care of the formula but only the most superficial and which asks them the moon: textures, outfits,"without preservatives", beautiful foams… without ever taking care of what is in the product. As a result, they are pushed to make the easy, practical and cheap, they make sales, but few real formulas studied until the end.
When I became interested in the composition of cosmetics, I started to wonder: why does he put that in this product? My training as a pharmacist gives me a different look at formulas: I always have a"toxicological" approach to things. Formulators in general are not as aware of physiological risks as a pharmacist. I have the chance today to design the formulation of the products, by bringing this glance there".
A union based on common values
With their different backgrounds, they might never have met.
He wanted, to develop his range,"an industrial pharmacist with a real cosmetic desire".
In reaction to everything she had understood about the world of beauty, she sought"the space of freedom to invent her perfect product".
In fact, they were destined to meet.

Very quickly, trust was established between them. They decided to unite for the better… and avoiding the worst, to make together many children. It is specified, in"real" life, they each have"real" spouses and"real" children: little Annabelle, Mylène Pillot's daughter, born in December 2008, thus benefited from the benevolence of her"fake" brothers but true friends, these cosmetic products that her mother had designed in her"other" life. But that's another story, and if Papa and Maman Dermatherm talk about the children they made together, they remain much more discreet about their private lives.

It must also be said, these children were conceived with the assistance, help and support of some aunts and uncles, godmothers and godparents (finally with all the team that works with them within Dermatherm). Let us reassure ourselves, in this conception where everyone has put his little seed, morality has remained saved! She was even one of the engines that drove it..;
Life Choices
For these children, therefore, they drew a very demanding line of life (others would call it a set of specifications), but quite simple to state: they had to be irreproachable. The idea was to go all the way, to create responsible and ethical, quality products;They are absolutely good for the skin and do not involve any risk, offering formulas purified of any useless or harmful substance, which can be supported by the most sensitive and reactive skins. That alone…

Organic is obviously essential. The eviction of a whole series of ingredients among the most controversial too. "Organic charters, European regulations," says Mylène Pillot,"are not enough. It is often the last cog that moves when there is a problem. When you're responsible, you ask around. And we are ahead of the rules". We can say today that Dermatherm has effectively anticipated it, and largely…

Banned also formulas: essential oils, exchanges with allergists having quickly created a certainty on this subject ("Organic without HE, it does not run the streets!"

Each raw material used in the products is subject to the greatest vigilance:"For everyone, we went back to the source, and it is sometimes a very complicated task. Some raw materials are mixtures of active ingredients from several origins, arriving at formulators after a complex process involving several distributors… By dissecting all the raw materials we were offered, we sometimes had surprises… but we absolutely wanted to avoid any consumer deception. Only the safest, most active and most harmless have been accepted in Dermatherm formulas.
The pitfall of the unavoidable
Once the first choices had been made, the"easiest" ones, two problems remained to be solved, two elements that cannot be eliminated (or with difficulty) from cosmetics: water… and preservatives.For the water, it is that of the source of Fumades-les-Bains which was preferred: of thermal quality, the most sulphurous in Europe, recognized for its therapeutic virtues and indicated to treat many skin problems, it thus becomes the first beneficial active ingredient of the brand.
The Conservative problem was much more complex. "In a responsible cosmetic product, guaranteeing a high level of consumer safety, a preservation system is essential," begins Didier Lopez. "A preservation system, yes", adds Mylène Pillot,"but without preservatives!
It is true that they are among the most suspicious cosmetic compounds, some to be irritating, others allergenic, some also toxic to the body. Unthinkable for Dermatherm children. "We started from nothing," explains Didier Lopez. "In general, we are looking for the solution to replace the Conservatives in the formula itself. We changed our approach, we looked elsewhere.
The tracks eliminated
Alternative substances are quickly eliminated from the process.
Alcohol, drying and irritating, is not good for the skin," explains Mylène Pillot. All alcohol.
Essential oils are not a solution either," she continues,"one cannot satisfactorily preserve a product with only essential oils, it is a lie. It would take more than 4%, far too much to be well tolerated by the skin. Out (confirmed) essential oils.
".Glycols"she goes on,"dosed at around 7%, are conservation boosters. But they are drying and irritating. All the glycols.
Certain acids, benzoic or sorbic, for example, are unfavourable to the development of bacteria. But they are useless to the skin". All acids.
Certain plant extracts are sometimes proposed to replace preservatives, but the case of honeysuckle extract preserved with formaldehyde has made us more than cautious on this subject. All plant extracts.
"Enzyme systems would be effective even in pots, but are very new. There is a lack of distance to assess their possible side effects. We wanted to remain faithful to our precautionary ethics and we did not retain them". All enzymes
. Sugar or salt could have been possible, but they should have been added in far too large quantities to obtain the correct texture of the product. All the sugar and salt.

We had to look elsewhere. The idea is starting to germinate in Papa Dermatherm's head: why not in the treatment of products? "We have studied several methods," he explains.
"The pulsed electricity gave a clean formula, but not real conservation. Some waves were in favour of decontamination, but it was not enough…".
Innovation on the move
That left the packaging. Didier Lopez then proceeds by analogies. What does a cosmetic remind him of? A cream, a milk… in their texture, their colour, their names… the image of whipped cream…
Eureka! Why don't we try the UHT? Ultra High Temperature… A process which consists in raising the temperature of the product very quickly (in a few seconds) up to 135°C, and then cooling it just as quickly. A process for which we have more than 20 years of experience in the food industry, both in terms of efficiency and safety. What if it was the cosmetic solution?
But the direct transposition of an installation used for example for milk is not adapted. The process must evolve to make it applicable to all galenic forms of hygiene and beauty products.
18 months of research and 1.5 million investment later, the solution is finally there, the process applicable and patented.For Dermatherm products, it is completed with an airless pump bottle designed to guarantee the safety of the product once it is opened by the consumer. The formula is worked in such a way that the active ingredients of the formula do not lose their effectiveness during the passage to ultra high temperature. The control tests are positive, the adventure can begin, the first products are launched.
First steps in life
And the feedback from the first users, who quickly become unconditional followers, is more than encouraging:"I could no longer wash without it being unbearable for my skin," says this early conquest. "Thanks to your products, I've found the pleasure of showering again, and other cosmetics players are also interested in the process.

"In one year", smiles Didier Lopez,"we were entitled to 4 inspections by the DGCCRF and 1 by the Afssaps. They first wanted to make sure that there were no preservatives, then they checked the safety of our products by carrying out bacteriological tests. Competition has also shown its interest. All our products have been bought by our biggest competitors, who have practiced challenge tests… Without wishing to betray any secret, I think that the technique will not remain the prerogative of Dermatherm. It is patented, but it is open. Others will start, and we are ready to negotiate technology transfers. We are convinced that this is good for our consumers, and we believe that it must be good for everyone"

Good for everyone, and from all points of view: this fully satisfies Mylène Pillot. "It was time for cosmetics to offer absolutely safe products. The movement comes from people who have skin problems, but it is valid for everyone. Should we continue to use cosmetics with our eyes closed and wait until we have a skin problem to see what we apply? With Dermatherm, I have the freedom to offer really good products, with only the best for the skin, even if the cream is a little less white or a little less smooth. After the research and testing phases in 2006 and 2007, the commercial launch in 2008 and 2009 will be the year of truth,"

concludes Didier Lopez.

It is indeed this year that we will be able to evaluate how the children of Papa and Maman Dermatherm will behave in the cosmetic society.
But, conceived with so much care, nourished by so many ethical principles, raised with such a concern for purity and security, how could they go wrong? In any case, we wish the whole family long life and happiness.
© 2009- 2020 CosmeticOBS