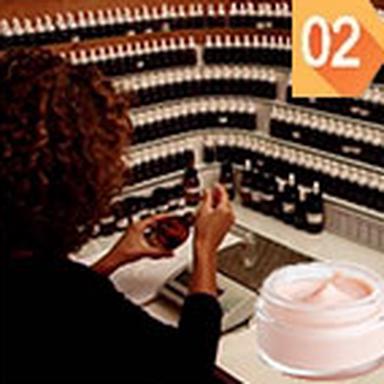 More and more elaborated, the perfume of cosmetics is sophistic. It is not uncommon for the notes of a treatment to fill a whole page of a press kit, and if, most of the time, the olfactory subtleties escape us, they remain for a lot in the love at first sight that one can have for a product.
From brief to tests
In concrete terms, as soon as a perfumer has been selected (the brands that care for their cosmetic perfumes have a perfume manager within the company), he or she will "receives a brief with the presentation of the project, the consumer target, sometimes the desired olfactory direction. We do not receive the finished product because the perfume is worked at the same time as the other elements of the mix, but we have the information necessary to work and we often receive the unscented base in which to compose", says Sidonie Lancers.
A vector of efficiency
Perfume is an important purchasing (and especially re-purchase) criterion in cosmetics today. Of course, a treatment does not have a perfuming vocation, but its smell participates more and more in its impression (necessarily subjective) of effectiveness. " It is an important part of the finished product. It contributes to the success of the cosmetic product but it is a whole. The consumer buys the product for her benefit and the perfume is her olfactory interpretation, says Sidonie Lancet.
Natural fragrance in full development
The strong emergence of the organic market has prompted TechniFlor to create 100% natural fragrances, NATFLOR, which are based on Ecocert certified raw materials. The result is found, among other things, in the body range with citron extract from Bio-Beauté by Nuxe , with a citrus scent, fresh and invigorating, softened with a touch of vanilla in the base that brings a gourmand roundness (Exfoliating and Toning Jelly, 150 ml, 15.90 € ; Express Moisturising and Toning Cream Gel 24H, 200 ml, 15,30 € or 30 ml, 2,90 € ; Nourishing and Toning Satin Oil 100 ml, 17,50 € ; Fresh Deodorant 24H, roll-on 50 ml, 8,50 €).
Other examples which will make date: the Night Dew Balm Rosa Angelica from Sanoflore (50 ml, 30 €), because it manages to reproduce a floral scent of tea rose just picked, a feat in certified organic cosmetics! It is true that the base itself is rich in rose hydrosol. And that some fruits like lychee smell really"dewy"! As Maïlis Richard-Royer (the Sanoflore nose) points out," floral notes are particularly difficult to obtain organically, but on the other hand the greedy and fruity notes are very well developed. ". This fragrance also perfectly reflects the product concept ("fresh beauty").
It is also the case of the relaxing aromatic concentrate, present in all the new range"anti cellular stress" Infinity of the Kyoto Five Worlds Ritual (Infinity Day Cream, 50 ml, 143 € ; Infinity Eyes and Lips Concentrate, 15 ml, 92 € ; Infinity Balm, 30 ml, 123 €, from January). This zen perfume, almost hypnotic, was composed by Dora Baghriche, perfumer at Firmenich, who works for both sectors. Built around white flowers, green tea and bamboo, it transports us to the heart of Japan!
Finally, the necessarily woody fragrance of the new La Chénaie anti-ageing brand, where each treatment contains an antioxidant oak extract (among the seven treatments that will come out in January: Supreme anti-ageing serum, 30 ml, 69 €; Day Youth Cream, 50 ml, 49 €; Night Fortifying Cream, 50 ml, 49 €…) will mark a turning point in pharmacy. Anti-aging treatments with a woody scent are rare. This rupturist scent alternately evokes chestnuts, apples and cereals. It was designed by Pierre Flores of TechnicoFlor from peach, oak leaves, lotus, patchouli… The perfumer, very inspired by this world of oak, has also developed a range of scented candles that the brand will offer its customers!
The perfume trend in cosmetics
The current evolution in terms of cosmetic fragrance is towards fruity notes (peach, apricot…), musky or aromatic. " The fruity notes of the eau de toilette segment influenced some cream scents. We also note that some brands dare aromatic scents (editor's note: essential oils) even for face creams, especially to amplify the impression of effectiveness", confirms Sidonie Lancers. The aromatic notes also reinforce the impression of naturalness. This is the case with L'Oréal Paris Extraordinary Night Radiance Cream-Mask Oil (50 ml, 17.90 €), Lancôme Hydra Zen Essence de Beauté hydratante antistress (200 ml, 43 €), or the Oils of Life The Body Shop Night Mask (in March, 80 ml), which all contain relaxing essential oils. For Philippe Collet,"[t]he Flowering is recurrent in women's cosmetics, but also"zenitude" (green tea, lotus, bamboo, aloe vera notes…), aqueous and transparent, non-marine scents, such as calone or cucumber. As for naturality, it underlies all cosmetic perfumery ".
Some cult cosmetic smells…
They are part of our olfactory heritage. Like the smell of Mustela milk, inseparable from the baby (its secret lies among other things in a honeysuckle note), the inimitable fragrance of Laque Elnett (L'Oréal Paris) or the white flowers of Crème Nivea (new limited editions "Contes d'hiver", 150 ml, 2,45 €). The slightly herbaceous and soothing scent (deterpenated petitgrain essential oil) of Biafine or frankly"hot sand" of the first solar oils Ambre Solaire are intimately linked to the holidays. Mixa hand cream owes a lot to its magnolia scent.
The rose-violet accord of lipsticks has influenced alcoholic perfumery (Yves Saint Laurent's Paris, Lipstick Rose created by Ralf Schwieger for Les Éditions de Parfums Frédéric Malle…), and synthetic musks, omnipresent in current perfumes, have been discovered by… lessiviers ! Precisely because these molecules stick to the textile fibres, persisting after washing, just as they stick to our skin, offering a unique remanence (hold).
Closer to home, the"solar floral", somewhat monoï scent of Nuxe Prodigious Oil (created in 1991 by Serge Majoullier at Mane) is so emblematic that it has given birth to a perfume (Prodigieux le parfum, 30 ml, 29.90 €), as well as a whole range (Prodigieux Huile de Douche, 200 ml, 9.90 € ; Prodigieux Lait Parfumé, 200 ml, 15.90 €)! Naturally, odours evolve. Today, baby products must have a touch of orange blossom. The success of vitamin C has given birth to an invasion of citrus fragrances, evoking orange, in energizing cosmetics. The aquatic notes and their"thirst-quenching" fragrance are consistent with the moisturizing ranges. For a purifying line, freshness is the most important thing. The most elaborate, rich and complex fragrances are those of anti-ageing (they are also the most expensive facial care). Finally, perfumery schools are right to introduce students to all applications, because the bridges between the different trades are incessant.
The Observatory of Cosmetics
© 2015- 2020 CosmeticOBS
---
Associated elements(1)