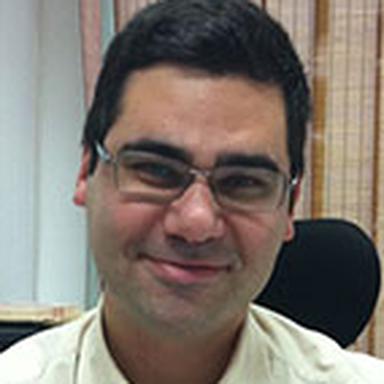 Expert toxicologists, who can sign product safety evaluations, have some of the most desirable skills in the cosmetics industry today (especially since the new Regulation went into effect). Job opportunities for these professionals abound, providing excellent career opportunities… but these days there is a shortage of candidates. How does one become an expert toxicologist? Example with Stephane Pirnay, of the EXPERTOX firm and laboratory.
It all began with an effervescent tablet – like those you drop into a glass of water and then drink to relieve a headache. As a toddler, Stephane observed the phenomenon and found it magical: ' An hour later, the pain was gone! But I didn't know how it worked. As a child, I was very curious about how drugs worked on headaches, cuts and scrapes, and diseases, ' he says today.
His father ran a business as an ironworks engineer, and his mother was a civil servant at the Police Prefecture. The family lived worlds away from the pharmaceutical industry, but when Stephane's schoolteachers asked him what he wanted to do when he grew up, he would say, ' I would like to sell medicine .' He didn't change his mind as he grew older, and he began studying to become a dispensing chemist.
Pharmaceuticals? That's not what I had in mind!
Everything went smoothly until his second year of study. His first work placement at a pharmacy hit him like a cold shower. Stephane Pirnay discovered the reality of the job. ' I like giving advice, but the boss wasn't happy when I spent 10 minutes with a customer because the queue would be getting longer and longer… And, for me, a pharmacy is a place you go to get medicine. But it's much more than that! A lot of people come in to talk, complain, or buy just what they're looking for, like in a drugstore: the bodybuilder for his muscle mass, the little old lady for her cat's diarrhoea… I even saw a woman who was looking for a way to kill her neighbour! You're almost like a psychologist; you don't deal with how drugs work, their dosage, their side effects, etc. '
In a word, it was a far cry from what Stephane Pirnay wanted to do professionally, especially since a second-year student's role is as a 'helper': opening boxes when shipments came in, taking the day's earnings to the bank, changing spent light bulbs, etc.
From pharmacology to toxicology
His decision was clear: ' This is not my vocation! I have to do something else .' But he continued on to the third year, during which, to his delight, he studied analytical chemistry. The evaluation dimension of the discipline appealed to him; he relished the 'puzzles to be solved and investigations to be carried out'. And in the fourth year, miraculously, he discovered toxicology.
' Toxicology is fundamental ,' he explains. ' Before healing, when the damage has already been done, we must first protect. Toxicology is prevention, because we try to understand how things work and how they go off course .'
And in toxicology, at least, you never get bored: ' It is cross-disciplinary; it touches on all fields: anatomy, biology, chemistry… You deal with heavy metals, mushrooms, insects, all the kingdoms, including animals and minerals. It's highly demanding, but it's fascinating .'
His mind was made up; Stephane Pirnay would specialise in this field. But out of the twenty students in the fourth year of study, only nine made it to the fifth year, and he was the only one who wanted to continue on to the final year. A dispensation had to be granted in order for him to continue.
Setting one example after another
In the sixth year, he was the only student, and his studies were overseen by two professors. The least we can say is that he had to be independent: ' I worked on the pharmacopoeia. I had to evaluate and inspect medicines. The professors let me work on my own. I learned a lot .' He also learned a lot from his mentors, to whom Stephane Pirnay insists on paying homage.
There was Prof. Jean-Michel Warnet, whose first university lecture in the fourth year of study stayed with Pirnay: ' It was an exposition of people, famous men, academic structures… I didn't understand a thing! It took me 20 years to understand: to master toxicology, you have to comprehend the different worlds and aspects of the discipline .'
During his time at the Police Prefecture, Prof. Ivan Ricordel taught him exacting standards in evaluation. Says Pirnay: ' I saw him break a sweat late at night, when he was drawn into a difficult case. He had an eye for detail that must be confirmed. With him, inconsistencies were virtually non-existent .'
And he recalls Prof. Frédéric Baud, clinical director at the Lariboisière hospital: ' He also taught me methodology, techniques, and scientific rigour. I saw him get up in front of a room of 400 people to prove to them that they were all wrong .'
Three mentors with highly complementary qualities, from whom Stephane Pirnay drew inspiration, and for whom he does not hide his admiration.
To the USA, and back home again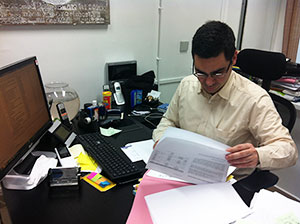 He finally became a Doctor of Pharmacy and Doctor of Science in Toxicology. With his degrees in hand, he left for the United States to pursue post-doctoral studies. For two years, he familiarised himself with American methods and wrote procedures and protocols for analytical techniques and toxicological studies.
' I enjoy writing ,' he says, ' but over there, they told me, "Here we don't write 'articles', we write standards! If we publish something, the whole world follows us. Every detail counts. "' The premise may seem pretentious, but the level of rigour that stems from it resulted in awards for Stephane Pirnay's writing, first in the United States, and then in France. In all, his writing has won more than 100 awards.
Upon his return to Paris, he became a researcher and professor at the university. He was immediately confronted with the gap between the old world and wealthy America: ' The contrast was blatant as far as the resources we had in the U.S. vs. those we had in Europe. And on top of the insufficient budget, we had to deal with administrative red tape! And then, one day, purely by accident, a secretary switched my file with that of another academic and I found myself transferred to the hydrology department! '
That was the last straw. Just as he was creating a laboratory and about to become a senior lecturer, he left his job for the private sector.
From expert toxicologist to EXPERTOX
In 2008, he joined the JB Consulting firm, managed by Jacques Bouffechoux. ' He was looking for a lab director, a right hand man. He's the one who taught me the profession, how to run a small business, client-supplier relations, etc. He got me into working groups at the ANSM (France's drug and health product safety agency), and thanks to him, indirectly, I joined the European Commission. He was an extraordinary person, highly intelligent, and we were on the same wavelength: we often gave clients the same answer without consulting each other first .'
It was during this collaboration that Stephane Pirnay fleshed out his already impressive CV, which included the following qualifications:
• Doctor of Pharmacy
• Doctor of Science in Toxicology
• Biological Pharmacist, Eurotox-certified expert toxicologist
• Graduate of France's Académie nationale de Pharmacie
• Graduate of the Université Descartes Paris V
• Director of Studies at the Université de Pharmacie Paris V
• Award for best scientific publication
• Expert working group member at the European Commission
• Expert to the Paris Court of Appeals
But in 2010, when Jacques Bouffechoux died, his company died with him. Pirnay decided to add yet another qualification to his CV: he would become the Director of the EXPERTOX toxicological expertise firm.
' I started my own company. It was a difficult time; nothing was ready. In the space of a few weeks, I had to find new offices and start everything from scratch .' His clients followed him.
The company began as a toxicology firm alone. It issued safety reports for consumer products, drugs, dietary supplements, toys, medical devices, biocides… and of course cosmetics. As a toxicology firm, EXPERTOX can approve formulas, calculate safety margins, evaluate product safety as required by Annex I of the Cosmetics Regulation, draft the product information file, play the role of delegate responsible person by storing the files and receiving inspectors, provide notifications (products, nanos, etc.), revise labels, check compliance with GMPs, etc. The firm also monitors international regulations and provides consulting services.
A little less than two years after creating his structure, Pirnay added an analytical laboratory: ' The lab is an important component for taking measurements, screening, and quantifying actives, preservatives, and trace amounts of impurities. It is also useful in apprehending microbiological cleanliness .'
In the laboratory, a whole series of key substances can now be measured (phthalates, nitrosamines, VOCs, formaldehyde, parabens, phenoxyethanol, heavy metals, nanomaterials, allergens, PAHs, etc.). The batteries of tests required for cosmetics are carried out there (challenge tests, total germ counts, ocular irritation, patch tests, container-content stability and migration tests, sensitivity tests, etc.). The viscosity and activity of water can also be measured.
' We can manage everything from A to Z ,' says Stephane Pirnay. ' We can also do just one migration test, or provide advice on just one label. We are able to adapt to the demands and needs of our clients .' But the customer isn't always king: ' We have no problems blocking products that must be blocked. From time to time, even though it's rare, we see products that are truly catastrophic and dangerous to human health. We once analysed a product that had been on the market for fifty years but contained a toxic active ingredient. On the other hand, we provide a lot of encouragement for good products! '
Organisation, sharing, passion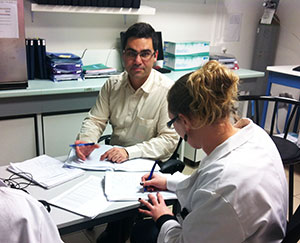 To meet the demand of his fifty regular clients, not to mention the numerous occasional requests, Stephane Pirnay has had to be well organised. He recruited a team of 13 people and created his own software to organise the work to be done, build his databases, and manage all of his files. Everything is backed up for security reasons, and everything is available for employees on a network allowing them to access the correct level of information. ' Our system is built like a pyramid, just like the police system! Each project leader treats his file identically each time and submits it to his or her hierarchical superior before it lands on my desk for approval .'
At 39 years of age, Pirnay has surrounded himself with a young staff, both in the regulatory business and in the laboratory. He holds regular meetings, at which he takes stock of the current situation and collaborates on finding solutions to problems. These are an opportunity for all employees to progress individually.
He kept his university programme, which he uses both in his company and at the Université Paris V, where he satisfies his appetite to share knowledge by teaching degree-level courses on evaluation and safety. He regularly takes on work placement students in his company, from engineering schools (EBI and others), pharmacology schools, and ISIPCA (France's International Superior Institute of Perfume, Cosmetics, and Food Flavours).
' The profession may appear to involve a lot of routine ,' he says, ' in safety evaluations, microbiological tests, etc. But in fact, toxicologists are chameleons. We may have to evaluate a pen, a dietary supplement, a complex ink, a cosmetic product… every job is interesting. And the other aspects as well, when you doubt yourself .'
Or when you are attempting to approve a method for qualifying PAHs (polycyclic aromatic hydrocarbons). The subject is a hot topic in the laboratory today. Initial analyses have been carried out, but the results are not consistent. So you try to figure out where the problem is, you go back over the test protocol in detail… Maybe there was an error in handling? Tomorrow, new samples will arrive with a new machine to test them. Pirnay prepares for the new test and his eyes sparkle like those of that little boy watching the effervescent tablet. If he was the only one involved, he wouldn't hesitate to dive in now, even if he had to spend all night on the project!
' To be a good toxicologist, you must first be a person of integrity, but above all you must be curious; you must want to understand the mechanisms of operation. You must also be meticulous and honest enough with yourself to accept that sometimes you just don't know .' And in that case, you have to work even harder to find out.
' A safety assessor needs to have a vast background ,' confirms the expert. ' When you're signing a file, everything is happening in your head. I don't have a single book in my office; I only need a pen and I make the connections .'
There is no doubt about it: toxicological expertise is a career with a bright future ahead of it.
' There is currently a shortage of expert toxicologists ,' affirms Stephane Pirnay. ' There are a lot of job opportunities, and there is no reason to fear routine: the job will be different depending on whether you work for Paris City Hall, a hospital, or a water treatment plant, for example. There is real demand for toxicologists in the job market .'
And you know you'll never get bored, because ' toxicology is not an exact science: it is constantly evolving as studies are published and as research is carried out .' It is a daily quest, with the task of ensuring safety for consumers: Hercule Poirot and Sherlock Holmes have finally found their match!
© CosmeticOBS-L'Observatoire des Cosmétiques
© 2014- 2020 CosmeticOBS