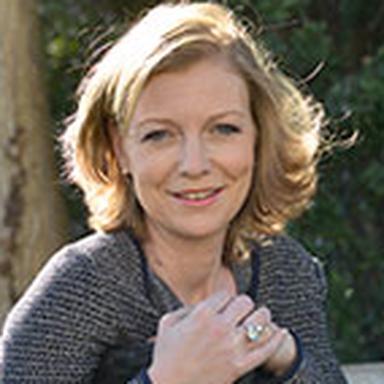 She is bright, warm, generous. Valérie Demars draws her strength from unconditional love and a childhood dream, from her relationship with nature and the language of flowers, from her sacred spring and her grandmother, Aimée. Her aromaperfumery and line of perfumes unlike any other – with an active core straight out of the garden of well-being – were born of this alchemy, with its airs of magic. Her perfumes speak the language of love and make us feel good.
Valérie Demars has wanted to be a perfumer since the age of 13. She tells us that her vocation was born in her grandmother's garden, between the lily pond surrounded by phlox, boxwood, and a small conifer that covered the ground; the iris path; the arbour woven with roses and honeysuckle… It was a garden full of marvels, on the banks of a river lined with poplars and willows near Saint-Genulph, a miraculous spring and place of pilgrimage since the 5th century.
A dream dashed
But life can play tricks on us and lead us astray: the path to accomplishing a childhood dream is sometimes more like a winding path than like a nice, straight motorway.
Training in conventional cosmetics
After years of studying maths at the CPGE level, Valérie was offered her first work placement as a perfumer. But the offer fell through due to a lack of funding, so she turned to ISIPCA (France's International Superior Institute of Perfume, Cosmetics, and Food Flavours). As she explains today, she wanted ' to have a well-rounded vision of the profession, and the field of cosmetics also involves perfumery ,' so she chose the 'Cosmetics' curriculum. This led her to a great career in the field.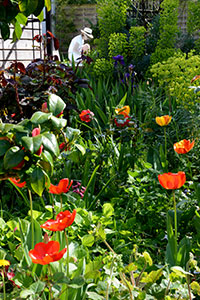 Over 3.5 years of sandwich training at Payot, she learned how to be a formulator at the workbench. After that, she joined André-Jean Brin at Derma Développement, a custom cosmetics company, where she held a technical and sales position. At that point she was approached by a head-hunter. Next stop: Givenchy. There she learned the methods of a large corporation by occupying a variety of positions: R&D coordination, production and marketing, packaging quality management, etc. Finally, she was in charge of overall quality (packaging, finished products, raw materials, bulk, etc.) for cosmetics as varied as personal care products, makeup, and… perfume.
Back to nature, back to basics
After seven years in Paris, she wanted to leave the capital, so she followed her husband to La Rochelle.
And what does one do in La Rochelle when one works in cosmetics? Apply to Léa Nature, obviously. The company has been located there since 1993. She was hired in the quality department. In 2008, when president and founder Charles Kloboukoff decided to start a 'real' cosmetics laboratory, she joined the R&D team. She sourced active ingredients and packaging, made purchases, and directed marketing for several of the company's brands (So'Bio étic, Floressance, etc.). She wore many hats and bore a heavy workload. Fatigue eventually won out.
A health problem in 2010 made her re-evaluate her situation, and she asked to return to formulation. The second alert came just two years later, in 2012. ' That's when I remembered my childhood dream ,' she says, ' and I asked myself what had become of it. I thought to myself: you're off the mark. I loved my job, but it wasn't really what I wanted, even though we were still building a lot at Léa Nature. I needed more than just the "perfume breaks" that my co-workers gave me from time to time .'
A new beginning on 1st April
She gathered her courage and went to see Charles Kloboukoff to tell him of her intention to leave her job to start her own company and become a perfumer. His answer was clear: ' No, you are not leaving! ' He was the one to suggest another way of doing things that would be beneficial both to his company and to Valérie's personal development: three days per week for Léa Nature, and the two remaining days (plus weekends!) for herself.
This is how they've been doing things since 1st April 2013. It's a special date for Valérie, as 1st April is also her grandmother's birthday.
The source of the dream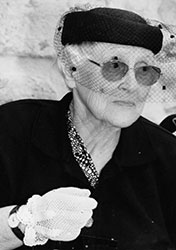 ' My grandmother spent a lot of time raising me ,' confides Valérie Demars. ' She was strong, generous, and as authentic as the natural world around her. But she was also feminine, elegant, and delicate. She had an incredible garden, full of flowers… She gave me her love for plants, as well as two of the most precious gifts: unconditional love and awareness of the sacred character of nature .'
And it was Aimée, the grandmother with the predestined name, and her values that inspire her granddaughter today: ' I want to create perfumes that smell good and make you feel good, so that I can pass along love and recreate the sacred link .'
She goes on to explain that perfume has been 'active' since ancient Egyptian times, when it was used to purify, heal, regenerate, and more. Nothing like modern perfumery, which is for pleasure and image alone: ' Synthetic perfumes have lost all notions of beneficial action and what they were originally designed to do .'
The sacred relationship with nature
Her perfumes must therefore have meaning and be at least 95% natural. The small remaining percentage of synthetic ingredients (which do not include phthalates, UV filters, or polycyclic musks) help the perfume to last longer and to project better. ' As time went on, we moved further and further away from the scent of nature, even though some synthetics are of value. One doesn't have to make 100% natural or 100% synthetic products. There is also the middle ground so dear to Aristotle .' But Valérie puts plants at the forefront of her fragrances: ' Plants can't express themselves ,' she explains. ' Their only language, the song of the plants, is essential oils… .'
And she takes full advantage of their complexity. She illustrates her point with rose essential oil. The natural version is made up of around 200 different components, while synthetic versions only include the main components, enough to recreate the 'basic' odour. ' But the totum is important ,' she maintains, even though the natural EO costs €3,000 per kilo when synthetics can be purchased for €15 to €80.
A commitment to ethics and responsibility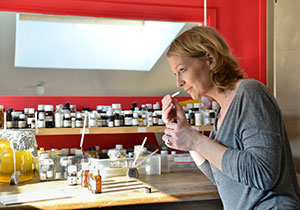 Valérie Demars intends to respect nature with all of her ingredients. When sourcing her raw materials, she works with French suppliers or those who practice fair, sustainable trade. She makes sure ' that the harvesters respect the sacred character of nature and are paid a fair wage '.
The women of Anjouan, in the Comoros, who pick her ylang-ylang are paid fairly: five times more than elsewhere. Her sandalwood comes from Australia, where for 15 years, two scent seekers support the aborigines and where, when one tree is cut down, ten are replanted. Her Provence AOC lavender is grown without pesticides or any other chemicals.
The adventure began in 2013. Logically and simply, Valérie's brand bears her grandmother's beautiful name: aimée de mars. In French, 'aimée' means 'loved one'. Her brand is placed under the kind protection of two godparents: Bernard Chevilliat, creator of Melvita, and Claudie Ravel, who manages Guayapi. A couple more sources of precious positive vibes…
Valérie began assembling her materials to create her first perfume. Her inspiration was obvious: her grandmother loved roses, rose essential oil is the oil of unconditional love and it acts on the heart chakra. She named her first perfume Belle Rose . It's more of a bouquet of roses than a soliflore, with a powdery base and modern notes of fresh, white flowers. The bottle is adorned with a spotted feather, symbolizing freedom and love. The ribbon that surrounds its box is a symbolical marker of the values of the sacred relationships carried by the perfume. The concept was born.
Song of plants, of stones, of the elements
Today, the line is made up of eight Eaux de Parfum. Each one contains the active core, composed of 21 organic essential oils. The active core takes into account the vibrational level of each oil for a perfect balance of active molecules. The complex acts on neurotransmitters to directly influence the psyche, bestowing a feeling of calm and positively influencing mood. Each fragrance is associated with a temperament or personality.
The 'Jardin d'Aimée' collection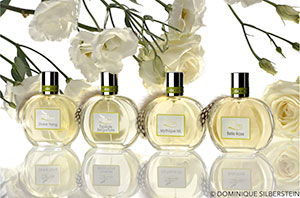 This collection was inspired by Grandmother Aimée's garden, and by her many voyages to the far corners of the world.
• Belle Rose is the perfume of a sensitive, creative, gentle, feminine woman.
• Espiègle Bergamote is a fresh, clear, joyful Eau de Parfum (bergamot is the essential oil of good humour) for dynamic, natural, and spontaneous athletic women.
• Mythique Iris was inspired by Valérie's second daughter, Iris. According to her, the perfume is ' as soft as a child's lovey, as tender as a cuddle '. It is a reassuring comfort scent with accents of vanilla and almond, suited to refined, elegant women who are proud of their femininity.
• Lastly, Divine Ylang , the most sensual fragrance, was designed like a perfume par excellence , combining rose and jasmine with sandalwood and vanilla, for assertive, refined, well-organized women.
The 'Étoiles d'Aimée' collection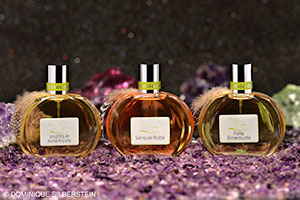 For these 'stars', each bottle contains a gemstone. Inspired by crystal healing and based on the vibrational exchange that takes place between the stone and the perfume, and then with the person who wears it, this collection is made up of three Eaux de Parfums.
• Folle Émeraude was created for enamoured, dynamic, hedonistic women in love with life. The encounter starts off fruity (peach, lemon), and the perfume then reveals a floral heart (rose, jasmine) that takes root in cedarwood, sandalwood, and patchouli.
• Mystique Améthyste is a gentle Oriental with very fresh top notes (bergamot) that give way to a bouquet of Bulgarian roses and Indian jasmine followed by the rich notes of vanilla, patchouli, and tonka bean. With amethyst, the stone of creativity and spirituality, this perfume is intended for sunny, bold, mysterious, independent women
• Lastly, Sensuel Rubis marries precious woods with white flowers. The accord is nuanced by sparkly Sichuan pepper and the sensuality of benzoin and sandalwood, and the sillage is punctuated by powerful patchouli and soft vanilla. It is charged with vital energy for the gourmand, the volcanic, or the adventuresome.
The 'Éléments d'Aimée' collection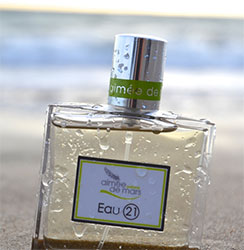 The elements are water, wood, metal, earth, and fire.
The first work in this collection is once again inspired by the sacred, this time the spring of Saint-Genulph, this holy site, forgotten by its pilgrims in the early 20th century but gifted with a second life in 1987 by… Grandmother Aimée and Valérie's father, who rebuilt it to protect its beneficial nature. This water of life, christened Eau 21 (21 for the 21 essential oils that make up the active core), carries its aromatic and marine aromas towards a calm body of water, surrounded by cedarwood and oak moss. It is the brand's first unisex fragrance for athletes, travellers, and explorers.
Bois 21 is a woody amber for men, ' arid and voluptuous, with a duality of sillage in which man and woman come together as one .'
In her creative phase, which she describes as ebullient, Valérie fully intends to further build her collections as the inspirations and feelings of love arise. She has already added three scented candles ('La Maison d'Aimée' collection) and roll-on perfumes ('Les Voyages d'Aimée').
Aimée de mars: an encounter
In two years, Valérie has built beautiful collections of perfumes charged with history, positive vibes, and the values passed down by Grandmother Aimée. Today she is faced with another challenge: getting her creations out there, and ' making this new form of perfumery accessible to as many people as possible to restore the sacred relationship with nature that has been forgotten '.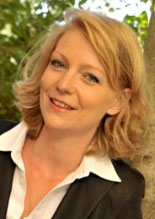 She is starting to build a network of home-based sales consultants. She likes the friendly atmosphere of this method of distribution as well as the social aspect and the financial independence that it allows women to achieve.
Her perfumes are also available in pharmacies and parapharmacies.
She also has a website, of course, where she tells her story and that of her perfumes, along with that of the plants whose essential oils she uses, in a series of short videos. The site includes all useful information and an online shop. On the site, she signs her articles 'Valérie, petite-fille d'Aimée' (Valérie, Aimée's granddaughter).
© CosmeticOBS-L'Observatoire des Cosmétiques
© 2015- 2020 CosmeticOBS