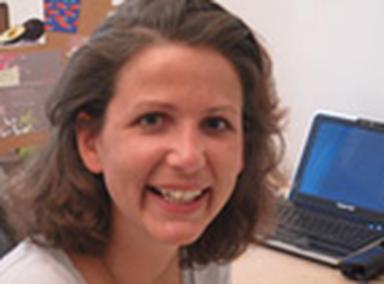 Is it a name? A nickname, or a pseudo? A brand? … Mademoiselle Bio has become all this over time. Even more (this from the very beginning): Mademoiselle Bio is an adventure. Imagined, sustained and lived by its founder, a true Madame, and completely bio: Violette Watine.
NB: since this paper has been written, things have still changed for Violette Watine.
In 2010, she heralds the "marriage" to Biu Beauté Bio, leading to the development from a website to Parisian shops.
At the end of 2011, the handover is fully implemented. Mademoiselle Bio is 100% managed by its buyers, and Violette Watine establishes a consultant company specialized in marketing and web communication.
(Note for our English-speaking readers: in French, "bio" comes as an abbreviation of "biologique", i.e. "organic" in English.)
" Mademoiselle Bio is the result of a personal journey. It was a desire, an intuitive approach, a way to find what I was looking for in organic cosmetics … when I knew nothing about it to begin with!"
This is easy to understand. For Violette Watine, who went directly from a business school to Procter & Gamble, then to L'Oréal she left some time later, organic cosmetics may look as a strange unknown planet …
A conventional Ms
In a previous life, indeed, she was the "Manager of the International Marketing Department" in Lancôme. She worked to adjust the formulae, packaging, sales points and media plans of the cleansers, make-up removers or moisturizing products to the trends and demands of foreign markets.
Then, she believed in the L'Oréal "philosophy": " We are the best. We are better than all the others. We are the best … Any question? No discussion: we are the best ". Excited by her job, she "weighed" 250 millions € of revenues. She is slightly lighter nowadays, either from a financial point of view or when talking about her convictions!

Augustin, the trigger
Mademoiselle (indeed Madame!) Watine may have pursued a rewarding carrier in the conventional cosmetics industry. However, Augustin was "en route" to enlarge the family. Violette was pregnant, and as many women during their first pregnancy, she began to think thoroughlyabout her way of life, "I only wanted the best for my child. Safe, fresh products, tasty vegetables … hence, organic ones!"
Nevertheless, she does not stop with food. Following a haptonome's advice, she learns "to feel the life", and, for the first time, she applies an organic cosmetic: an anti-stretch marks oil. "Then, I had many talks with organic enthusiasts, and I began to question almost everything. I made a comeback to common sense; I felt the need to renew the link with earth … " The green worm was in the fruit of the love affairs of Mademoiselle … now an organic enthusiast.
Organic and dynamic!
Everything goes. The commitment in a rural farming association (AMAP, as per the French acronym), food, household products, her child's games, natural medicines, down to the rubber in her child's kit: everything is environment-friendly now. Violette Watine is not the kind of person to do a half-job.
Lively, enthusiast, close to nature to the heart, bold and fully Parisian, she shows serious commitment to her new credo, to her now well known "Beauté engagée" ("Involved Beauty"). A young Louis later (her second son), she establishes Mademoiselle Bio. The area under her living-room table was a kind of warehouse …

Crazy entrepreneur
" One must be almost crazy to establish a company. I had an idea, but did know nothing about the economic constraints: it was not that important. I had a strong feeling I had to do it, but no idea of what the worries are to start a business and to run it! "
This approach worked well. It is well accepted, media write papers on it. Consumers come. Indeed, thanks to the way Mademoiselle Bio is run: a new way of doing. From the very start, further to the first brands she has selected, and she sells, Violette Watine puts on her website an "Expertise" section ( "I did it to understand and to advise consumers. Nothing comes as a shiny white or a dark black. There is no perfect cosmetic. Nevertheless, knowledge helps to choose" ) and a blog, to keep a human link.
She begins on the Internet to "start slowly". Very quickly, she is busy every evening and every weekend. "On the Internet, everything goes at an incredible pace. Nothing is definitively won, and there are no unwarranted earnings. If one does not go forward, one goes backward."
Bio diversity
Fortunately, it worked. More and more. After having been a kind of launching pad for small unknown brands, Mademoiselle Bio has now a wider programme and includes more classical and known brands. In June 2009, it has opened its first physical shop in Paris.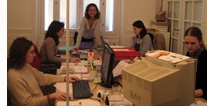 The adventure goes on and abandons misconceptions and prefabricated concepts. When faced to her, one sees Violette Watine who gestures, talking with her hands, her heart, and her head also, indeed with all the communication means she has at her disposal to get her point across and convince.
She fights to get her personal approach on cosmetics across. She defines her own criteria of selection. She follows a personal path reading the books by the French Buddhist Matthieu Ricard. Nothing goes fast enough. She defends her passions with the same conviction as she uses to denounce the practices of the conventional cosmetics industry, such as the nano-capsules, this "anti-ageing revolution", which exposes our health to risks that are no longer acceptable now …

Violette Watine moves forward, always quickly, even when talking about her future, and she hopes "t o find a balanced future without letting her convictions aside. "
A stable balance, we wish her it will be. As for her convictions, no worry: they are well entrenched to the heart of Mademoiselle Bio!
© 2009- 2020 CosmeticOBS