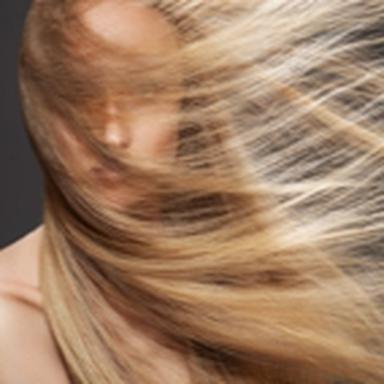 Dry, brittle, dull, unmanageable… Sometimes our hair just does exactly as it pleases. And yet, if it makes our lives difficult, there is no doubt it is because it is ill-treated, and it wants it to be known.Healthy hair requires a hair care routine with several steps. Here is a little review of the basics, so you can sport hair worthy of that name.
First, hair beauty implies to analyze the very nature of your hair. Once you have understood how it works and what it needs, it is easy to use the right beauty routine! And there are three fundamental steps in it.
Washing
Finding the right product
The first reflex is to look at your shampoo composition. That is a rule you should never go against, as it is essential for healthy hair.
Whenever possible, avoid shampoos based on silicones and sulfate, because in the long run, hair fibres might just 'suffocate'. In other words, your hair may lose volume, become dull and heavy.
Also, you should check the presence of perfumes and colourants, which can be found in the shampoo formula. They can be irritant and allergenic after some time.
The choice of shampoo depends on the nature of the hair. For those with specific hair problems (dandruff, lack of volume, hair that gets too oily too soon), better choose a product whose actives contained in the formula actually provide a solution to these issues.
For normal hair, the routine is simplified. A neutral washing base will do, like baby shampoos, for example.
In addition, it is recommended to have a detox treatment, once or twice a year, to help your hair get rid of all the additives contained in shampoos. Just use a neutral washing base for about two weeks instead of your usual products. As regards the frequency between shampoos, do not change it: it only depends on the nature of your hair.
What frequency?
Although washing your hair is a routine gesture, it is not always easy to know how many times a week we should do it.
And there is actually no single answer for everyone, as it all depends on the nature of your hair. Hair that tends to get oily may be washed every other day – three times a week. For normal and dry hair (including frizzy hair), one shampoo twice a week is enough.
Some people decide to no longer wash their hair with shampoo, which they deem too abrasive for the scalp. It is the 'no poo' trend ('no shampoo'), but it is an extreme choice (see our article Low poo, No poo: what for, who for? ).
How to apply it
Shampoo is to be applied over the whole head. Just massage your scalp to get rid of all the impurities accumulated, like perspiration, pollution, or certain cosmetics residues, and remove the excess of sebum.
As for rinsing, it is better to use warm or cold water (if you can stand cold water) rather than too hot water, as it stimulates sebaceous glands, and your hair would tend to get oily more quickly. Besides, cold rinsing helps close hair scales and make them more radiant.
What about dry shampoo?
To avoid washing your hair too often, it is possible to 'cheat' with a dry shampoo.
As for the composition, these products are not worse than others. Their formulas are usually based on mineral or plant powders, like talc or rice powder to absorb the excess of sebum.
Dry shampoos are often available in the form of aerosols, which makes their use even simpler. They are to be applied on dry hair, 30cm from the roots (to prevent any white streak on your hair). After gently massaging your hair for a few minutes, brush the shampoo to remove any powder residue.
Hair treatments
Although shampoos go with hair care claims, they are often not sufficient for a deep treatment.
As a result, hair care products are recommended as a complement to shampoos. They may be applied before or after washing your hair, and there are several types of them:
Vegetable oils
You can deal with certain issues like hair dryness or lack of radiance with oil baths. The idea is to apply vegetable oils on your hair and leave them on for a while, more or less long, depending on your hair length, its nature, and the problems it has. Oil baths should always come before shampoos to prevent any oily residues.

Masks
These intensive products are designed for a deep treatment. Most should be left on for over 10 minutes, so that the actives have enough time to act.
They may be applied before or after the shampoo. It all depends on the packaging indications.
Beware: certain products are not intended to be applied on the whole length. A nourishing mask spread on the roots might make them oily, while a treatment against dandruff does not have much effect on the lengths.
Conditioners
Contrary to masks, conditioners have a more superficial action. That is the reason why they are left on for a shorter period of time, usually no more than five minutes. Conditioners cannot repair your hair like masks, but they do help untangle it.
One more point to be clarified: specific treatments are required for coloured hair. Dyes damage the hair and weaken it. Apply adapted masks or conditioners to nourish it, and try regenerate hair fibres as much as you can.
By the way, remember not to colour your hair too much, as the ingredients contained in many products may be carcinogenic, allergenic, and/or irritant.
Generally speaking, it is useless to leave products on for longer than indicated. It will not make your hair more beautiful. On the contrary, exposing them too long to the actives contained in the products may damage hair fibres.
Styling
The ideal brush
Brushing your hair not only provides radiance, but it also stimulates the scalp and helps remove accumulated polluting residues, or cosmetics residues. Although it is a routine gesture, it is actually crucial, so you should choose the right brush.
Again, it is the hair type that determines the appropriate brush.
For fine hair, 100% boar hair brushes are recommended. Their hairs are soft and will not further weaken hair fibres.
As for the thickest hair types, they can be brushed with boar or nylon hairs. Still, for curly hair, select mixed brushes with spaced out teeth, not to break curls.
Hair and heat
After a shampoo, many women use a heating device to manage their hair. However, too high temperatures tend to weaken hair fibres. Still, do not totally forget about heating devices, there are just a few rules to be followed.
With a hair drier
The first thing to do is not to dry your hair if it is really wet: pre-dry it with a sponge towel. Indeed, the more wrung the hair is, the more protected from the hair drier heat it will be.
When it is time to switch on the hair drier, remember not to use too high temperatures, as they tend to dry and make the hair brittle. To protect hair fibres even more, do not hold the hair drier too close to the roots.
Lastly, to fix the position of the hair, it is always a good idea to finish with a puff of cold air.

With a straightener/curl machine
This type of device should never be used on wet hair. Always dry your hair in the open air or with a hair drier. Avoid too high temperatures with curl machines or straighteners. And to limit their duration of use, there are styling products available to help you manage your hair faster.
Although these gestures are habits, they are not always well done. But anyone can get the same hair as Rapunzel! Just pay attention to it, that is all.
© CosmeticOBS-L'Observatoire des Cosmétiques
© 2016- 2021 CosmeticOBS