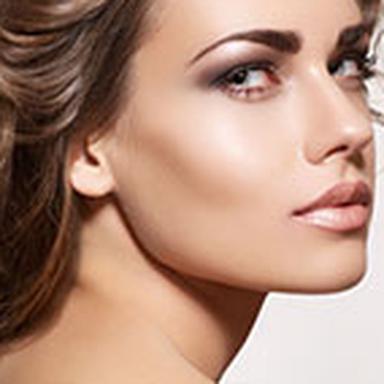 Highlighter… This term is everywhere in the feminine press, in beauty blogger posts, and in cosmetics points of sale. More than a fad, highlighters seem to be settling for good in the average woman beauty kit. Very well, but what is it? How should it be used? Here is a short lesson for all those – men and women – willing to brighten their complexion, without looking like their Christmas tree.
Highlighter: what does it mean?
If the French seem pretty lost with yet a new Anglicism… maybe English-speakers are too! 'Highlighter' simply means skin 'brightener' here. Now that we have translated it for you, is it not much clearer what it is for? The principle is simple: a highlighter brightens the part of your face you apply it on.
And it is essential to add that a brightener is a product, not a makeup technique.
As such, the technique is called strobing. The idea is to model the face by highlighting certain light points on the face. Strobing is the contrary of contouring, which aims to redefine the face by working on shades.
Strobing has the advantage of being easier!
Who is it for?
Contrary to some other makeup techniques, strobing is recommended for anyone who wants to boost their complexion's radiance, although those whose skin tends to be naturally shiny should not overuse it: strobing is actually intended to provide shininess. If you have an oily skin, prefer mattifying makeup.
How?
To brighten your complexion without looking like a disco ball, do not use the highlighter on your whole face. The areas to work on are your cheekbones, your chin, your nose bone, and the Cupid's bow (right above your lips).
First of all, the idea is to choose a highlighter that will suit you. They are available in the form of blushers or creams. Blushers are often easier to work, because they fade more quickly. In addition, the blusher texture is recommended for oily skins, since powder has a mattifying action. For more precision, just apply the brightener with a brush. But again, there are two solutions available. For your cheekbones, a fan brush will be more convenient. For your forehead, nose bone, or chin, a flat brush will give more accurate results.
On your cheekbones, you can use a more iridescent colour, but do not go too far. However, for the rest of your face, of course, it is better to choose bright blushers, but they should be discreet, with no spangle. The most intense or bright shades will make a better effect if you go partying.
More generally, pinkish blushers are more adapted to clear skins. Darker skins can go for golden shades.
Highlighters have actually become the makeup product adapted to all levels and skins. Easy to use, they redefine the complexion and refresh it day and night, 365 days a year.
© CosmeticOBS-L'Observatoire des Cosmétiques
© 2016- 2020 CosmeticOBS