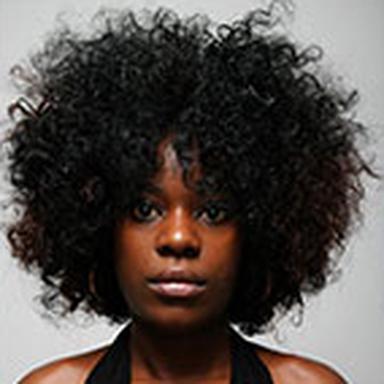 Supposedly hard to do, frizzy and curly hair wrongly suffers from a bad reputation! Of course, it is drier than Caucasian hair, but it simply needs to be taken care of properly, with adapted products.
Dryness, brittleness, shapeless curls… Frizzy and curly hair is faced with various issues. And yet, three steps will do to keep it tidy.
Washing
Finding the right product
Just like Caucasian people, you should choose your shampoo according to the nature of your hair. And there are shampoos on the market that can help you solve your main problems: lack of shine, dehydration, or dandruff. It is important to read the shampoo composition and try and avoid products based on silicones and sulphates, which damage the hair in the long term.
How often?
Frizzy and curly hair does not need to be washed more than once a week for two reasons.
• It is dry. Contrary to the sebaceous glands of Caucasian scalps, which are round, those of frizzy and curly scalps are egg-shaped, so they produce less sebum. That is the reason why your hair is naturally dry.
• It is fragile. Contrary to what many may think, frizzy or curly hair is not thick. It is actually quite thin, but the mere fact that hairs easily mingle makes the whole look bulky and gives an impression it is just a big mass. So, washing it too often might end up damaging your hair fibre.
How to apply it
Shampoos should be applied on the whole head. Just massage your scalp to remove any accumulated impurities like sweat and pollution. For those who use hair styling products to control their hair, it is recommended to wash it twice to get rid of any cosmetics residues.
Hair care
Curly and frizzy hair needs to be hydrated, nourished, and protected. So, it is essential to apply hair care products before or after washing it.

Vegetable oils
To fight against certain hair issues, vegetable oils (jojoba, castor, carapate, avocado, olive, coco, or amla oils) are ideal to treat your hair from the root to the ends. For those whose hair is in desperate need for care, the best is to leave the oil on overnight and wash your hair the next day. You will often need to wash it at least twice to overcome oily deposits.

Masks
Masks are hair care products that need to be left on for quite long. For example, count half an hour for frizzy and curly hair, given how dry your hair fibre is. To optimize the product's action, apply it on damp hair, only on the lengths (the oil bath carried out beforehand will have already nourished your scalp), and twist and wrap it in aluminium paper or plastic film, or put on a shower cap to create a helmet effect and produce heat. The mask will penetrate better this way.
Conditioners
Conditioners help untangle your hair and treat it, but more superficially than masks, since they should be left on no more than three minutes. Use them when you do not have much time ahead.
Hair styling
The ideal brush
Frizzy and curly hair is characterized by very tight curls. As a result, you definitely need the right equipment to prevent it from breaking and avoid ending up with a shapeless mass on your head. To untangle and manage it, nothing better than a comb with large teeth or a boar hair brush.
Drying
For this type of hair, the best is to let it dry naturally, so that your curls get the nicest shape and they are not dehydrated by the device's heat.
The answer to moody frizzy hair is to buy adapted products and treat it as often as it needs to. At the end of the day, no hair type is more difficult to control than another: the idea is to ban bad gestures and adopt the right beauty routine.
© CosmeticOBS-L'Observatoire des Cosmétiques
© 2017- 2021 CosmeticOBS