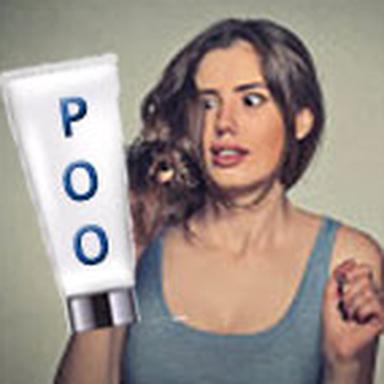 Less or no shampoo… such is the new 'trendy' recommendation for washing our hair. And it covers a vast scope, from only rinsing out your hair to more elaborate routines including cosmetics, which are booming to meet this new demand. Here are the pros and cons…
This trend – it is actually a trend – comes from the United States.
'Poo' is the diminutive of 'shampoo', 'Low' means less, and as for 'No', well it does mean no shampoo at all.
But why?
The phenomenon resulted from the release of chemicals used in traditional shampoos, like sulphates (which include foaming surfactants) suspected of altering the hair, or silicones (for a shiny effect and for sheathing and softening hair fibres), which make it heavier.
In the 'less is more' tradition, the logic behind this trend recommends to get rid of shampoo. And the environment will gain from it too, since it also means there will be fewer more or less polluting materials in water discharge networks.
But then, does it mean we must walk out with a dirty, oily, badly-done mop of hair every day of the year? Of course not! Indeed, if 'low poo' and 'no poo' make it possible not to use shampoos, they also involve clean techniques, which replace traditional cosmetic products by… other cosmetic products!
How?
So, the idea is to no longer 'wash' our hair, but simply 'cleanse' it…
For the most extreme enthusiasts, the technique first consists in making your traditional shampoo sessions less frequent for your scalp to 'get used' to regulating its sebum production, and then, gradually, only rinsing your hair with sodium bicarbonate, rassoul, or vinegar…
For the others, it is more about replacing traditional shampoo with a conditioner, preferably free from silicones – and it is not that simple to find, except in organic cosmetics stores, since organic labels have banned them. Then, the routine is almost the same as with a classic shampoo: the product is spread on the scalp and hair, massaged into the hair with the fingertips, and rinsed off.
So, you will actually gain no time, nor will you save any water… but then, it might be a choice to make.
What results for your hair?
According to strongly pro-'no poo' people, this method is enough for your hair to look clean and soft. Still, the most authorized online tutorials recommend regularly exfoliating your scalp in case of any discomfort, in particular itching sensations…
But above all, it seems the new routine is far from being suitable to all hair types. If it appears to be adapted to frizzy, very curly, or very dry hair, 'testers' with fine or simply normal hair showed much less enthusiastic, as they ended up with flat hair, oily roots, and a slipshod style.
What does the cosmetics industry make of it?
Of course, the answer is clearly and definitely positive! Obviously, a new trend is always an opportunity to launch new products! According to market research and consulting firm Kline, the segment of purifying conditioners has shown an exponential growth since 2014, with the strongest sales increase among all conditioners in beauty salons.
One can now even see 'no-poo shampoos' and 'washing conditioners' on the market! Or how to reinvent the 2-in-1 shampoo that can wash and condition the hair… only by adorning it with fashionable terms (they are now all gentle cleansing creams or purifying conditioners)… and by adding a few euros to the selling price.
In the end, guess who gets more… with less?
© CosmeticOBS-L'Observatoire des Cosmétiques
© 2016- 2020 CosmeticOBS