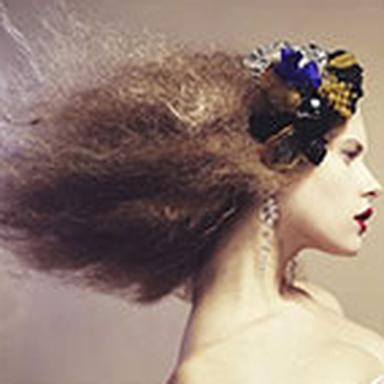 Year after year, we see a bright spectacle of green, brown, yellow, and red shades: as the sun belongs to summer and snow belongs to winter, the variety of colours is part of the fall season: Not only is it the most colourful season of the year but also a real treasure chest of make-up and styling inspirations! A few steps to walk through the trends of a fall forest
Green as spring, blue as the sea, as colourful as the leaves, or as white as the snow: it is beyond question that every season has a beauty all its own. According to the seasons, there are also four types of women. The fall type of women is characterized by a fresh complexion, with a golden beige or peach touch. Many of those fall beauties often have freckles; and either they tend to be red-haired or their blonde or brown hair has a golden cast. The eyes sparkle in intense colours, ranging from blue to olive or emerald green to amber and fawn.
Red alert!
Once the fresh chlorophyll starts to backtrack, the forests drape themselves in lush red hues that come along with all kinds of nuances. This play of colours inspires many women to decide for a makeover: it's time for a new hair colour that is inspired by the colours of Indian Summer with all of its red and golden leaves or the versatile brown of cones, tree bark and wood. Even at this year's fashion shows, the designers "saw red" and focused on red-haired beauties to present their couture. For those who still think about a "red makeover" can draw on coloration and semi-permanent hair colour.
Fall flashes
Courage in color: even though red has an avant-garde and modern effect, it can only be worn by a small number of women. Those who don't want to waive warm hues for their eye make-up can use some ruby eye shadow to create thrilling smoky eyes. Fall-like bronze and copper hues, too, look great on a lot of women when applied on the movable lid or the lower lid line. This look especially makes bright eyes shine! A golden eye shadow is the ultimate eye catcher when applied on the movable lid and the inner corner of the eyes. A lid line and a lot of mascara will make your eyelashes flutter and round out the look!
Lips don't lie
Kylie Jenner's lips recently made front-page news: the younger sister of the style icon Kim Kardashian likes highlighting her full lips with a bordeaux-coloured lipstick. Red lips are one of the hottest trends this summer; and fall is the ideal inspirational source for these expressive statement lips! With a lush red, warm brown or a mixture of both colours, nature offers a great number of beautiful colours that masterly highlight our lips.
Up to the fingertips
Fir sprigs parkas, mustard yellow ponchos, brown cord pants, and a ruby hat: Fall fashion is full of colours and combination possibilities! Sometimes, however, it's the little things that make an outfit perfect: nail polish gives the look a final touch and that certain something. In this season, too, short nails with dark shades are a real eye catcher as well.
© CosmeticOBS-L'Observatoire des Cosmétiques
© 2016- 2020 CosmeticOBS