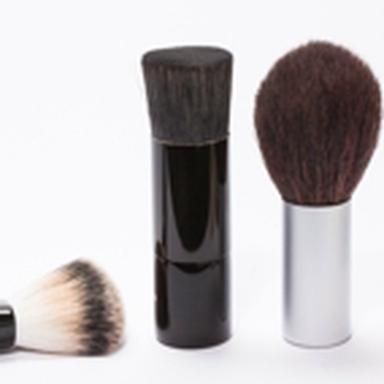 Using fingers to put on makeup? An absolute scandal for makeup aficionados. If applying foundation with the hands used to be common practice for ordinary mortals, it is now trendy to have the same tools as professional makeup artists (but beware: 'identical tools' does not necessarily mean comparable results!). Except sometimes, it is a bit complicated to know exactly how each brush should be used. We have deciphered it all for you to become the queen of troweling.
Many people tend to think makeup brushes are intended for dry materials: wrong. They are also designed to work on textures and liquids like foundations or concealers.
Before buying a set of brushes, the idea is to focus on their hairs. There are synthetic, natural, and animal-derived (goat or squirrel, mostly) hairs. Other than personal ethical views, which might make you choose one sort over another, it should also be known that the rendering will not be the same. Natural hairs are better suited for light materials, while synthetic hairs, more rigid, give more accurate results.
1. Complexion

Foundation: the brush is flat to best spread the material on the skin, for a homogeneous, smooth outcome.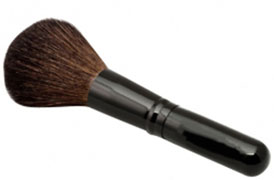 Powder: rather dense and bushy, it moulds the shape of the face and is also designed to soften the excess of powder.
Concealers/Imperfections: to accurately conceal your imperfections on specific areas, bear in mind you should not work the concealer with your fingers, but with the brush. So, it must be thin and flat, with dense hairs for the material to be best applied.
Blush: if you do not want to turn into a double of Bozo the Clown, apply a light layer of blush, and then soften it. That is the reason why the brush dedicated to this task is supple and bevelled to redefine your cheekbones.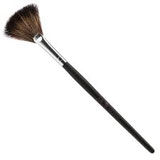 Fan brush: contrary to what its name suggests, it will not help you refresh your skin in any way. However, its shape is perfect to apply illuminators on your cheekbones, without too heavy a result.
2. Look
Eyeshadow: if you want to do a first-class job with your eyeshadow, you will need to go through several steps, meaning several brushes. First, use a flat, dense brush to apply the material on your lids. Then, use a fluffy brush: bushy and very supple, it will help you soften the product homogeneously on your lids, including in small hollows.
Eyeliner: there are different ways to use eyeliners. The most highly-skilled of you can do it with a brush. Then, it must be short, flat, and bevelled to easily (at least we hope so) trace a line along your lid. Then, for budding Cleopatras, you will find eyeliners with an integrated felt brush for a simpler, quicker application.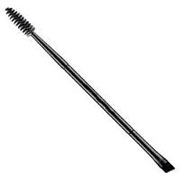 Brows: we are done with the times when we put our hairs back into place with a damp finger. The era of the king brow has begun, and its dedicated tool is often double. On the one hand, the brush is bevelled and firm to fill in the gaps and structure the line. On the other, a small bottle brush will do your brows and remove the excess of makeup, to avoid any Frida Kahlo effect.
3. Mouth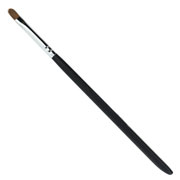 The lip brush is firm and its tip round. It can extract enough material from the lipstick. Its sharp tip helps apply the product accurately and perfectly defines the mouth contour.
If this whole equipment is supposed to help you get more accurate, clearer, and cleaner makeup results, it is essential to take care of it. Brushes are in direct contact with your skin, so they must be cleaned up regularly enough (several times a month), and kept far from the dust. For those of you who need some retouch during the day, and therefore need to have their brushes with them, all of them are available in a retractable version. At least, there is no risk for you to stick the dust lying at the bottom of your bag on your face.
Lastly, bear in mind that for the whole range, you will need €50 on average for four or five brushes. And a comprehensive kit with ten of them will cost around €200. There is a price to pay for efficacy.
© CosmeticOBS-L'Observatoire des Cosmétiques
© 2016- 2020 CosmeticOBS