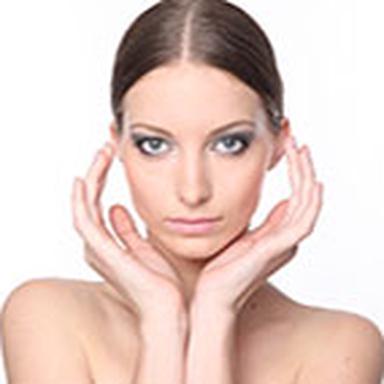 Only a few days before celebrations get started, and you are all stressed out! You still have a few presents to buy, the dinner to prepare, and your outfit to choose, so the issue of party makeup is not on the agenda yet. No panic! CosmeticOBS has made a list of the best tricks to end the year beautifully.
If you want to be radiantly beautiful for the festive season, you should wear more intense makeup than usual – and proceed step by step.
Complexion
Your complexion is the backbone of it all, so whether it be for Christmas, the New Year, or any other occasion, make sure it looks perfect: nothing should be overlooked! (All our tricks for a perfect complexion are available in our article Five steps for a flawless complexion ).
Facial structuring
To sport a dazzling face, it is wiser to use a highlighter to structure and illuminate it. As is the tradition for party nights, illuminators may be iridescent or sequined, for a slightly more festive look than usual (if you are a highlighter beginner, you will find the right tips here ).
The blush option is the right compromise for those who want a more discreet complexion. Apply it lightly on your cheekbones to revive them and boost your face.
Now, for those who are not used to using a blush, you had better turn towards a blusher texture that will be easier to work with a brush. But for the most experienced among you, you can use a liquid or creamy product. You can also apply it with a brush, by gently tapping the material on your cheeks, and then soften the colour.
The right shade
For both highlighters and blushes, pinkish shades are ideal on clear skins, while warm, bronzed shades are preferable for matte complexions.

Extra tip
Year-end parties often end late at night, and after a few glasses of wine, we are no longer quite so high and mighty. So, to avoid any heatstroke and excess of sebum on your face, mattifying paper is a major ally. Only one sheet will do to make any undesirable shininess disappear from the T-zone – and it is most discreet in your handbag.
Eyes
Of course, your look is one of the key elements of party makeup. Pull out all the stops! It is now or never.
Smoky-eye effect
Dark eyes are essential on big occasions. If it is true that this technique requires some skill, it is still accessible to the less experienced of you. Just closely follow the different steps.
• Put on a blusher exactly the same colour as your lids on your whole mobile lid as a basis.
• Apply a kohl pencil (smoky eye colour of your own choice). The result does not need to be perfect, since the pencil must be softened with a fluffy brush. Repeat the whole process until you get the intensity you want.
• As soon as the colour base on the lid is homogeneous and well-blurred (no more visible trace of pencil), it is time to apply an eye shadow of the same colour as the khol pencil, with a flat brush for a flat application: do not go back and forth, otherwise pigments will fall down on your cheeks.
• Apply khol on the internal edge of your eye in a vertical movement for fiery eyes.
• Blur what remains of the black pencil right on the edge of the lower lash.
• Use a blusher slightly darker than your lids and blur the edges.
• Finish with a mascara layer on both upper and lower lashes.
It is not always easy to get a smoky-eye effect without leaving material on our face. So, for those who are less experienced, start with eye makeup, and then focus on your complexion.
The right shade
Although black is trendy, you can get smoky eyes of different colours. The best is to adapt the blush shades to the colour of your eyes.
• Blue eyes
No blue or black blushes, they would not really highlight your eyes. Go for warm shades like taupe, brown, or apricot.
• Green eyes
Again, no matching tones to avoid getting a dull look. Green eyes can play with brown or purple shades.
• Brown eyes
Do not use too light shades, prefer brown or bronzed blushers.
False eyelashes
Wearing false eyelashes is not always easy, so why not let ourselves go when we can? Still, be careful not to wear false eyelashes with too long fringes.
To slide them out of their pack, use tweezers, not to damage them. Then, lay a line of glue (the special glue sold with the lashes, and no other!) on the edge of your false eyelashes. Apply them as close as possible to the natural fringe of your lashes, so that both can merge. Now, to avoid making the joint between the false eyelashes and the lid visible, just draw a line of khol pencil. To finish, a mascara layer helps make the natural and synthetic lashes uniform.
For the most reckless of you, false eyelashes are available in any colour, with feathers, or with paste.
And do not worry about the end of the party: false eyelashes can be very easily removed, without any special product. Just gently unstick them from your lashes.
Extra tip
To retouch your makeup as little as possible during the party, there are two things to remember.
• Apply a base on your lids before you put makeup on your eyes to make your eye shadow last longer.
• Use waterproof mascara and khol pencil: that is vital to prevent makeup from running.
Mouth
The right shade
Basically, no lipstick shade should be banned because of your complexion. It all depends on everyone's tastes. Right now, red or burgundy lipsticks are on a roll. But the colour can also be decided depending on the eye makeup. Indeed, it is not because it is time to party that you should look like a stolen truck. So, in a nutshell, if your eye makeup is intense, your mouth should look more natural, and vice versa.
How to apply lipstick
If you choose a more intense mouth, it is preferable to apply your lipstick with a brush for more accurate results. The last retouches can be done with a clean brush soaked with cleanser that you lightly rub around your mouth to remove small imperfections.
Festive season obviously rhymes with eating. To prevent your lipstick from fading too much, before you apply it, use a lip pencil to trace your mouth contours and hatch your lips: your lipstick will last longer.
Shiny or matte finish?
Two parameters should be taken into account to solve this Cornelian dilemma.
• Your mouth morphology. A matte lipstick does not provide any depth, so it is not really ideal for fine mouths. For more curves, it is more recommended to use a lipstick with a shiny finish. Too fleshy mouths can soften it all with a matte effect.
• All lipsticks do not shine as long depending on their finish. Matte lipsticks require less retouches than shiny ones.
Should we dare the glittery look?
Well, of course! And what is fantastic with glitter is that you can put it absolutely everywhere (besides, without even trying to, you will actually put it everywhere).
On your eyes
Why not enhance your lids with a glittery eyeliner to discreetly illuminate your look? There are also sequined top coats available for lashes.
On your mouth
There is nothing prettier than a shiny mouth. You can also add spangles to your lipstick yourself. To this aim, first apply gloss on your lips, and then gently lay your spangles with a brush.
On your nails
That is exactly where you can completely turn to 'glitter'. The nail varnish and glittery base offering is substantial. Just a small precaution when you remove your nail varnish: glittery top coats are tough, so you should start by applying a piece of cotton soaked with nail varnish remover on your nails and leave it on. Then, just finish removing the nail varnish with a boxwood stick.
On your body
Of course, you should put glitter on your body if certain parts are visible (otherwise, it is totally useless). Your legs, neck and shoulders should be highlighted. To avoid getting more than you wanted, glittery body creams and oils can efficiently act as a safeguard.
Obviously, for a perfect festive look, do not follow all these tips on the same day. The idea is to dazzle everyone, not to replace the Christmas tree.
© CosmeticOBS-L'Observatoire des Cosmétiques
© 2016- 2020 CosmeticOBS